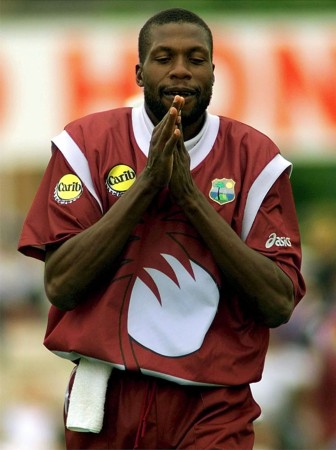 Former West Indies fast bowler, Curtly Ambrose considers the Caribbean nation's game against India tomorrow as a big one. The two teams clash at WACA, Perth, which is considered to possess one of the liveliest pitches in the world.
The West Indies quicks' would love to unsettle the Indian batsmen, who have looked in great shape throughout the competition.
Shikhar Dhawan, Virat Kohli and Ajinkya Rahane have shown their class in the competition, though Rohit Sharma is yet to fire on all cylinders, who gradually got back to form in his last match against the UAE, where he finished with 57 runs at the same venue in Perth.
The pitch at Perth assists fast bowlers with great bounce, but generally bowlers get carried away with the conditions and bowl a number of short pitched deliveries. This is exactly what Ambrose does not want his bowlers to do while playing against the men in blue.
"The pitches here are usually bouncy and supportive of fast bowling. However, the mistake most bowlers make is that they pitch the ball a bit too short because of the extra bounce. You have to find that good length, that is the key to being successful here," IANS quoted Ambrose as saying.
In such kind of pitches, the bowlers need to bowl in the right areas and let the pitch do all the work. Pitching the ball up could be the best option and allow the ball to swing and wait for the batsman to make mistakes.
"Bowling short and all that stuff could be waste. I'm not saying you shouldn't bowl a short ball or two but more often than not, you have to pitch the ball into that good area which will force the batsman to play a lot more."
But the Indian batsmen have been in terrific form that they might not be deterred by what will be thrown at them by the West Indian bowlers.
The Indian openers need to see off the new ball and play as per the merit of the ball. After the ball loses its shine, the pitch becomes a beautiful track to bat on, as the ball comes onto the bat beautifully, which stroke players such as Virat Kohli and Rohit Sharma would love.
When India played against UAE in their last fixture in the same venue, it was Indian spinner, Ravichandran Ashwin, who took four wickets in the game compared to the Indian seamers.
Umesh Yadav, Bhuvneshwar Kumar and Mohit Sharma might have learned the art of bowling in Perth – pitch the ball up -- which they need to employ against the West Indian batsmen.
West Indies are currently placed in the third position of the standings table, while India sit comfortably at the top of the table with cent percent victories.