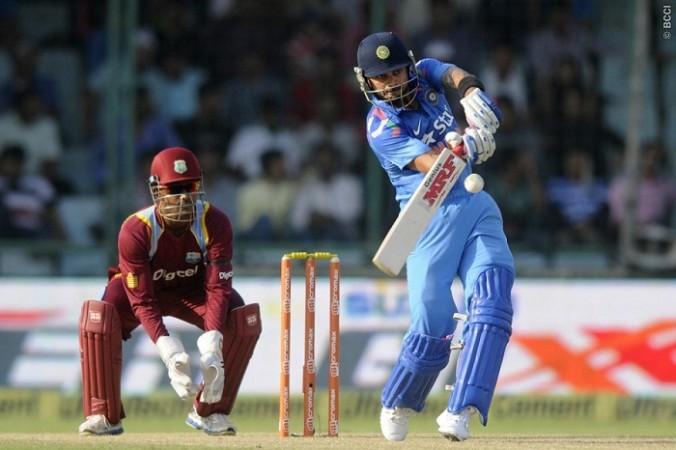 In the past, India looked up to Sachin Tendulkar to help them cross the finish line and now the baton has changed hands with Virat Kohli taking responsibility with the willow.
His form over the last 12 months or so has made him the mainstay of the Indian cricket team and his form is going to be crucial in the 2015 World Cup in Australia and New Zealand, which is scheduled to start from 14 February.
The Indian team recently tinkered with the batting order so as to provide balance to the middle order. That has seen Kohli moved down from No. 3 to 4.
In the recently-concluded tri-series, Kohli came it an no. 4 three times, while he batted at no.3 only once, with Dhoni explaining the need for a stable middle order.
Debate has been rife, ever since, over Kohli's best position, and a legend of the game, Sir Vivian Richards, feels it does not really matter as to what batting number Kohli comes in to bat.
"Whether he bats at No. 3 or 4, a man of his calibre is bound to succeed," Richards was quoted as saying by the Times of India.
Virat Kohli has been a regular in the ODI batting line for India in the key No.3 position, but Dhoni knows the importance of Kohli staying until the latter stages of the innings. Considering other players are in poor form, losing Kohli early on could dampen the confidence of the team.
Having played in Australia for the last two months or so, Kohli has shown that he can take on the Aussies at home, as he was the top scorer for India in the Test series.
"On these bouncy Australian wickets, there will be occasions when teams could lose early wickets," added the West Indies great. "It makes sense to have Virat bat at No. 4 in such a scenario because he can dictate terms whatever the situation of the match."
Another former cricketer, Tom Moody feels that the issue of Kohli's batting position has come about owing to Rohit Sharma's injury problems and Shikhar Dhawan's lack of runs at the top of the order.
"I think the problem India is facing is due to Rohit Sharma's injury and Shikhar Dhawan's poor form," he said. "If these two issues are resolved, then Ajinkya Rahane at three and Virat at four would be the ideal combination."