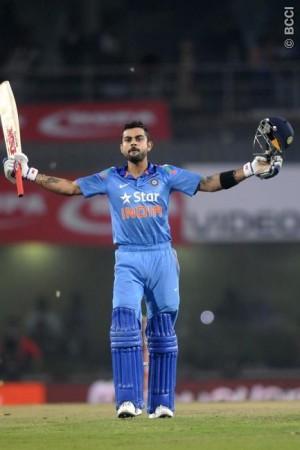 If there is one player in world cricket who you wish could have played more ODI cricket in this modern era of "slam-bang thank you ma'am," it would undoubtedly be Sir Vivian Richards – the West Indies legend who made batting look like the most enjoyable Sunday morning stroll.
So, when the West Indies legend marks out his players to watch for this ICC Cricket World Cup in Australia and New Zealand, it would be advisable to take notice and keep an eye on the names.
Richards' first player on the list is AB De Villiers, the ridiculously in-form South African, who made history by scoring the fastest century in ODI cricket by some distance against Sir Viv's team.
"The more I watch him, the more it feels like I am watching myself bat," said Richards in his column on ICC's official website about De Villiers. "He looks very comfortable at the crease.
"The shots he plays bring such joy, and it was evident in the way he scored that blazing century. It was a joy for everyone who watched him bat, and it is so every time he pads up. I like his style and he is one player who is very hard to leave out of any ODI team."
The next on the list – and Richards did say it was in no particular order – is the batsman who is right up there competing for the best ODI batsman title with De Villiers – the chaser extraordinaire Virat Kohli.
India's hopes of defending their World Cup title, in many ways, rest on Kohli, and Richards is clearly a big fan of the talented right-hander.
"At such a young age he has twice the number of ODI centuries than he has in Tests and he is such a confident player in limited-overs," said Richards of Kohli. "It is not to say he isn't so in the longer format, but I really like his aggressive style in ODI cricket.
"Look at the way he started his career, and the batsman he has already become today -- he is simply magnificent in whatever little time he has played so far. He is only going to get better and better, and add to his list of achievements."
Richards also picked out his countryman Chris Gayle to make an impact at this ICC World Cup. Even if Gayle has not been in the best of forms in the 50-over format, on his day he is the most destructive batsman on the planet.
"Any talk of aggressive batsmen is incomplete without mentioning Chris Gayle," said Richards. "On his day, he can be very destructive, a bowlers' nightmare.
"He can be a match-winner in any environment and in any match conditions. If he is on song, the opposition can lose the match in the blink of an eye, that's how destructive he can be."
The West Indies great also picked out the man who has scored oodles and oodles of runs in Australia, Steven Smith, calling him "one of the top batsmen in the world today."
Joining Smith on the list is compatriot Glenn Maxwell, New Zealand skipper Brendon McCullum, Sri Lanka run-machine Kumar Sangakkara, and the two bowlers – Dale Steyn and Mohammad Irfan.