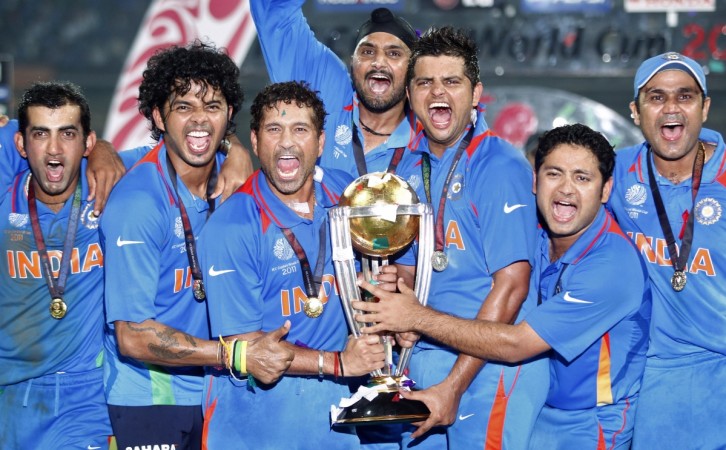 The ICC World Cup in Australia and New Zealand is just here upon us with the first match between Sri Lanka and New Zealand to be played tomorrow. Former cricketers have already given their favourites and now the cricketing legend Sachin Tendulkar has also predicted the final four teams of the competition.
Tendulkar believes India will be one of the four teams to reach the semi-finals of the competition. Virender Sehwag and Sourav Ganguly are also among the list of cricketers who have picked India as potential semi-finalists for the competition.
These cricketers know the present Indian team well, as they were knocking on the selectors' door when these greats were a part of the Indian team.
"According to me, the top four teams that I would put them in the semis would be Australia, New Zealand, South Africa and India," The Times of India quoted Tendulkar as saying.
Though, Tendulkar has tipped India to be one for the four semi-finalists, it is not going to be an easy one with a number of top teams in the competition, and to add to it, India has performed poorly in Australia of late.
The former Indian batting maestro also feels MS Dhoni is going to be a key player in the World Cup with his calm and composed attitude.
"Yes, I think MS Dhoni is the guy because he has the experience of competing at this level for close to 10 years and he is calm and composed. You know, even on the biggest of the stages he is calm and composed and that is what you expect from a leader.
"A leader should not panic, a quality which he has, and you know it's equally important for a captain to be in a good form also to take his team forward, only one individual cannot make you win the trophy. You need the support of the entire team," he added.
There is no doubt about Dhoni and his leadership skills, which has been tested many a times in major competitions and he has come out with flying colours.
Under the leadership of MS Dhoni, India have been an impressive unit, winning huge competitions, including the 2007 T20 World Cup and 2011 ICC World Cup.
Indian players need to perform as a unit to defend their World Cup crown. The Indian team cannot depend on just a single player, but having said that, there is a whole lot of pressure on Virat Kohli, who the Indian team would be looking up to for his batting exploits.
A good World Cup for Kohli would increase India's chances of winning the trophy.
Sachin Tendulkar also heaped praise for the Delhi batsman.
"I think Virat Kohli is brilliant, his biggest strength is that he analyzes the situation very well and also analyzes the conditions, the pitch, the surface that he is going to bat on. He picks that very quickly, and then he is sure about when he's going to collect his runs and how he's going to collect his runs," Tendulkar said.