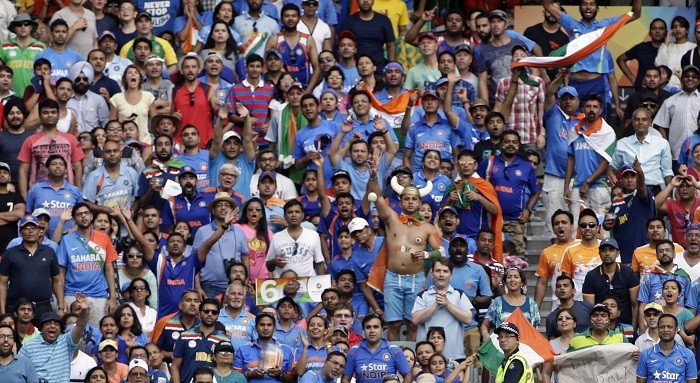 Indian cricket fans are said to be the most passionate when it comes to following their team in any format of the game.
They follow their team like no other and with the Indian team having reached the semi-finals of the ICC Cricket World Cup 2015, they are going to be present in huge numbers when the team take on Australia at the Sydney Cricket Ground on Thursday.
The Aussies on their own backyard might resemble an away team with Indians at home, as one can expect the SCG to be painted a sea of blue with 70% of the tickets said to be purchased by Indian fans. This does not mean that the Australians do not love their cricket, but it is just that the Indians love it a bit more than those Down Under.
Remember India's match against Pakistan and South Africa in the ongoing World Cup, where the Indian fans turned up in huge numbers and India came up with a superb performance to please the Indian cricket fans in the stadium.
Time and again, one has seen how fans can lift the spirit of the team and the Indian fans who are set to outnumber the Australians will try to do the same thing.
The Australian cricketers are aware of it and have been asking their fans to come out in full support as well.
Australian Captain Michael Clarke and opener David Warner wrote in their identical tweets, "I call on all Australian cricket lovers to paint the SCG gold on Thursday. We need your support. #goldout."
The Aussies have already started to talk about the huge Indian contingent crowd at SCG as well, which will want the men in blue to win. Australian all-rounder James Faulkner considers the passion of Indian fans as sensational.
"We were talking about it last night at dinner, the last game we played here it definitely felt like that," AFP quoted Faulkner as saying.
"The passion the Indian fans show towards their cricket team is sensational, so we're definitely expecting that.
"The last game we played against India here (a tri-series match) was a washout and the fans were unbelievable in the way they supported."