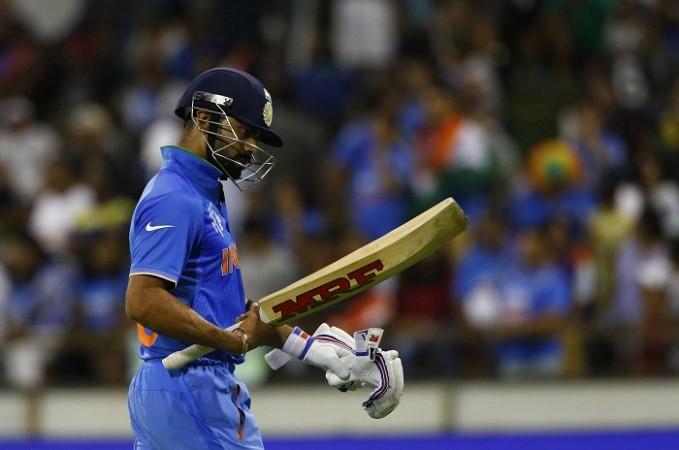 Virat Kohli is the man for the big occasion, there is no doubt about that, and what bigger occasion than a World Cup semifinal against the team that tormented, goaded and sledged him for over two months in Test match and ODI cricket?
Kohli has not had the greatest of World Cups so far, with his only outstanding innings coming in India's first match of the tournament – on 15 February – against Pakistan. Yes, he has scored over 300 runs at this ICC Cricket World Cup 2015, and yes, he is the second highest runscorer in the India team behind Shikhar Dhawan, but Kohli has not quite shown what Kohli can do apart from that opening match.
Of course, they don't come much bigger than Pakistan, and scoring a matchwinning innings against the bitter rivals in a World Cup is something that will stay with him for a long, long time. However, putting Australia in their place after a summer of near torment – it wasn't as much torment for Kohli from a personal scoring viewpoint, because he scored bags of runs in the Test matches – at their own backyard will be a notch or two higher.
The own backyard bit might be stretching it a bit, since Indian fans are expected to match, if not outnumber, the Aussie supporters at the SCG come Thursday, but beating Australia in a World Cup semifinal in Australia will be the ultimate victory, a victory which will act as the most soothing of balms to those hurtful losses earlier in the summer.
And to do just that there is no better player than Kohli, the man who lives for the challenge and to get under the skins (going for a stronger word that starts with p and ends with off there, but you know...) of the Aussies. Kohli will get a lot of flak from the home crowd, there will be plenty of sledging from the players, and every attempt will be made to get him to lose his concentration or play that false stroke which means a return to the dressing room.
If Kohli can overcome all that and just stay in his zone and hit those patented drives -- without edging them -- and those gorgeous flicks, Australia will get rattled, and as New Zealand showed, and to a certain extent Pakistan, rattle Australia and you can get that "W" in your column.
To do that, bat first or second, Kohli will have to be the main man. If he stays at the crease for 40 overs, Australia will be chasing a big total and if he stays in the middle for a similar time batting second, India will chase down most totals.
Staying in the batting cocoon will be essential to that cause, and Kohli needs to ensure, try as much as Australia might, he doesn't decide to rush out of that cocoon to try and make a point via other means than his willow.
Let the bat do the talking, and Kohli and India should be fine.