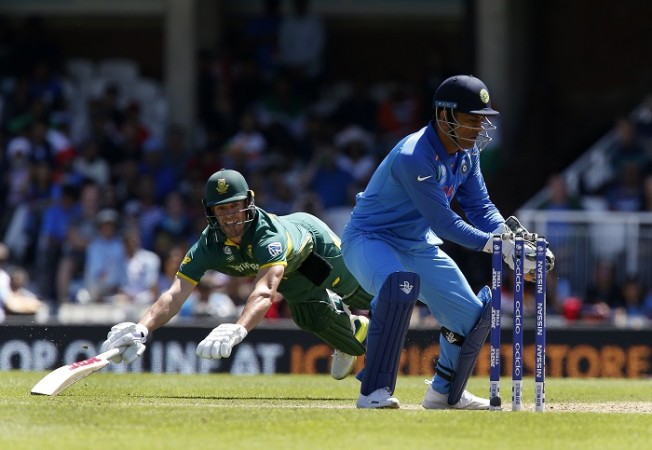 You could almost feel it – when AB De Villiers called wrong and lost the toss, with India putting South Africa into bat – the panic setting in. The first part of the plan had not worked, and it was time to figure out what the Proteas were going to do, after being asked to set a target, when they would have preferred to chase in this must-win ICC Champions Trophy 2017 Group B game at The Oval in London.
South Africa could not figure out a Plan B and what they did was what they have done so often in ICC tournament – press the choke button.
It was alarming and sad to see South Africa crumbling so easily under the pressure. When things started to go wrong, it went really wrong, culminating in a quite pathetic batting effort.
India should be given great credit for sticking to their bowling plans, maintaining the pressure and not giving away any cheap runs. Their fielding was also quite outstanding, but the ease with which South Africa crumbled made the Proteas look like a team in the Associate ranks, not one that is ranked No.1 in the world by the ICC.
So what if they couldn't get off to a fast start in the first ten overs? So what if Quinton de Kock didn't quite go smash-bang like he so often does against India? So what if Hashim Amla fell to the spinner, just when that opening partnership needed to bulge, bulge and bulge more?
When Amla and De Kock fell to R Ashwin and Ravindra Jadeja respectively, South Africa were still in a solid position, at 116/2 in 24.2 overs, to post a 280-or-thereabouts total, which would have been a strong one considering the pitch was slower than the previous ones at The Oval.
They also had AB De Villiers, the most dangerous batsman in the world, when in form.
Granted, De Villiers has not quite looked like the ABD we all love and admire of late, but in this innings, the South Africa captain looked like that old De Villiers, timing the ball from the off and getting off to a fast start.
With his great mate and equally dangerous Faf Du Plessis at the other end, the stage was set perfectly for a big partnership from the two and for the duo to bat India out of the game.
Instead, South Africa went on to press that choke button.
Du Plessis and De Villiers went for a suicidal single, the latter was run out, before Du Plessis was involved in another comical run out, which had David Miller walking back to the dressing room early.
After those run outs, the fight went out of South Africa, showing why they aren't a champion side, and have never been one in ICC tournament. Instead of fighting it out, and putting up a partnership, they crumbled, as India, showing what champion sides do, went for the kill.
That is precisely what this India side do so well under Virat Kohli. The moment they sense an opening, even the slightest one, they don't hesitate. They knock that door down and take control of the situation.
India's bowlers did that quite brilliantly, and after giving their batsmen just 192 to chase, the likes of Shikhar Dhawan and Virat Kohli went about knocking down those runs down in clinical fashion.
Yes, there was a slightly strange shot played by Rohit Sharma – who for some reason did not quite look right in this game, even in the field the body language was somehow off – early, but Dhawan and Kohli made sure the South Africa bowlers would not have an opportunity to mount a comeback.
Now, India need to show that champion stuff in the semifinals, where they will meet, unless something drastic happens in the final group game, Bangladesh. Bowl and field like they did against South Africa in the semis as well, and a place in the final for the second consecutive time in the ICC Champions Trophy will be assured.
Watch all the South Africa wickets in the match against India