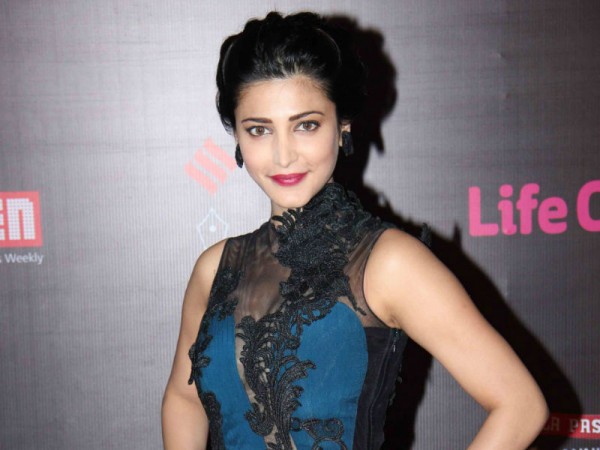 Shruti Haasan is an actress who has always spoken her mind and her latest video Be the Bitch reinforces this fact. The elder daughter of Kamal Haasan has now redefined the word bitch, which is seen as an abusive word, to something positive. In an exclusive chat with International Business Times, India, Shruti talks about the video, feminism and more.
What was the inspiration behind the Be The Bitch video?
There was no inspiration as such. I've always admired the work that Culture Machine has been doing and bringing out different facets of people's personalities. And I've always been writing and people around me were telling me to write more. These are things that I've shared with friends and had fragmented bits of it. And I just strung the idea together.
So, how do you think women should react or stand up to abuses like bitch?
I am not a preacher for women. This is just a personal thought process. People are like, 'Oh, Shruti you are a feminist'. I am not a feminist. Irrespective of whether a man call you one or a woman does, it's about being unapologetic about who you are. When people throw negativity your way be it in the form of an abuse or judgment, just turn it into something positive.
A lot of women have stood up for causes related to women. What are some of the causes near to you?
We live in a patriarchal society and that is something we have to say out loud. For me, the concern is about the safety of women especially young girls. First, it was about when a woman dresses this way or if a woman is out at night or she says this. I don't think these parameters even apply any more. I don't think women are safe as now you hear about children being physically violated. It's very scary. Education of women is also important as it gives them the opportunity to liberate themselves if the need arises. Self-defence training is another aspect I find important.
As someone who has grown up here how much do you think society has changed?
For me, it was very confusing. My father (Kamal Haasan) is such an open-minded liberal man and he's someone who genuinely loves and respects women. He has grown up in a house full of women – mother, sister, nieces and other family members. Whenever I have spoken to my father, I've seen his respect and appreciation for women. When I went out and met other men in the world, it was kind of confusing for me. My best friend is a guy who again has so much respect for women. These were the closest two male influences. When I met different men, it was like what is going on! Society might have changed, but only at a superficial level. The change that really matters has not happened yet. Otherwise we wouldn't have so many crimes against women.
Some Bollywood actresses have spoken out about the gender pay gap.
We are absolutely not paid as much as our male co-stars! (Laughs)
Do you think this will change soon in the Indian film industry?
I think Meryl Streep should get it done first! (Laughs) I am a young, independent girl who never had anybody pay my bills. Maybe in the future, gender pay gap may become one of my flagship causes, but at this moment, no. I am being very honest.
Is it important for women to be financially independent?
Absolutely! For a human being, man or woman, there is great value in knowing that the clothes you wear are yours or the car you drive is yours. The world is a materialistic place and at least the things you own should be in your grasp. I would advise anyone to find their own financial independence. And for women, it's doubly more important.
What's next for you on the film front?
Right now, I am working on Singam 3 with Suriya in Tamil and with Pawan Kalyan in Telugu. I will be signing a Hindi film shortly.