Here is everything we know about the early-morning raid at the residence of Karnataka Congress leader and state Energy Minister DK Shivakumar and the resort he owns:
* The Gujarat unit of the Congress flew down 46 of its MLAs to Karnataka — the only big state the party currently rules in besides Punjab — on July 28, following defections to the BJP in the run-up to Rajya Sabha elections in the state, where party president Sonia Gandhi's close aide Ahmed Patel is contesting.
* Once in Karnataka, the MLAs alleged that they were being offered Rs 15 crore each to defect to the BJP. The defections could hurt the Congress even more because Assembly elections in the state are coming up in December this year.
* The MLAs have since been accused of biding their time in the resort, even as floods ravage Gujarat. While Prime Minister Narendra Modi has announced a relief package for the state, celebrities like Aamir Khan have also called for donations. Khan even donated Rs 25 lakh to the cause.
* Meanwhile, the Gujarat Congress MLAs have been accused of participating in a karaoke night on Tuesday, just a day before the I-T raids.
* While it was initially reported that the raids began at Shivakumar's residence and Eagleton resort simultaneously on Wednesday, the I-T Department later confirmed that only Shivakumar's room in the resort had been raided.
* I-T officials with protection from the Central Reserve Police Force (CRPF) carried out searches at Shivakumar's residences in Bengaluru and Delhi, as in Kanakapura in the ramnagar district of Karnataka.
* I-T officials have been quoted by ANI as saying that they have not contacted the MLAs in any manner, and that their raid is solely on Shivakumar.
* A PTI report has said that the I-T Department has recovered more than Rs 5 crore cash from him in the raids. another Rs 2.5 crore was recovered in cash in continued searches.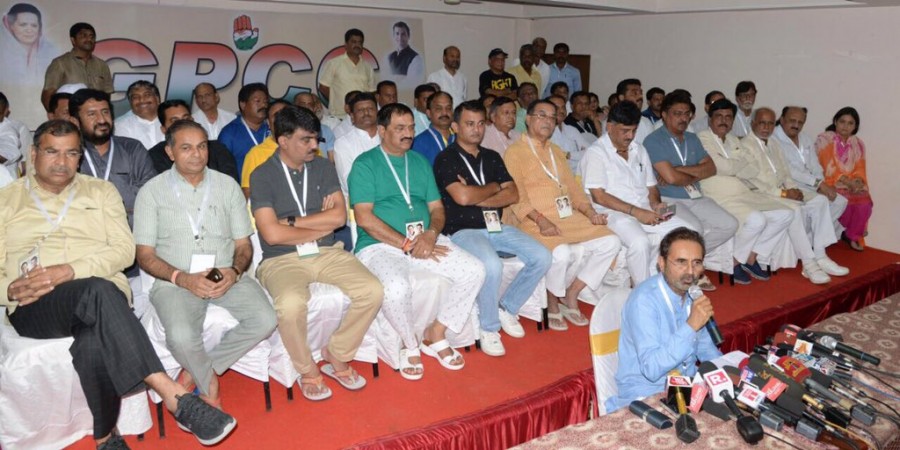 * The Congress has slammed the raids. "The BJP is on an unprecedented witch-hunt just to win one Rajya Sabha seat," ANI quoted Patel as saying.
* Congress leader Randeep Singh Surjewala has also condemned the action, saying: "The BJP has used every dirty and ugly trick to run a conspiracy to win the Rajya Sabha seat in Gujarat."
* The resort, it may be noted, was fined Rs 998 crore for encroachments in late 2016 by the same Congress government that is currently ruling Karnataka.
* The Congress is expected to take up this matter in Parliament today. The business of both Houses could be disrupted as a result of this.