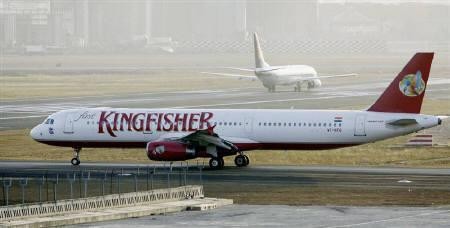 The Income Tax department has reportedly frozen bank accounts of Kingfisher Airlines (KFA) over payment default, media reports said.
The debt-ridden airline has been slapped a notice to pay the outstanding dues of Rs 342 crore, after it failed to pay installments of Rs 90 million (9 crore rupees) each week. The airline is said to have paid only half the amount (Rs 4.5 crore) for two weeks.
The airline also owes Rs 400 million (40 crore rupees) in dues to the service tax department. After failing to pay the dues, the airlines' bank accounts were frozen by both the IT and the Service Tax department in February.
In March, the accounts were reportedly de-frozen after an initial payment of Rs 440 million (44 crore) to the income tax department and the airline also assured to pay Rs 90 million (9 crore rupees) as installments each week.
Now, the IT department has frozen the accounts again following default in weekly payments of Rs 90 million by the airline.
KFA currently has a debt to the tune of Rs 70 billion (7,000 crore rupees), which it owes to several banks including the State Bank of India and ICICI Bank.
Earlier on Tuesday (May 29), the State Bank of India decided against lending to KFA. "Banks will not lend any more money and urged the KFA to pump in fresh equity as the airline had no room for further borrowing to run its operations," Pratip Chaudhary, SBI Chairman & Managing Director said according to the Deccan Herald.
The KFA crisis has forced the airline to make massive cuts in its operations, including a cut back of carriers to 16 down from 60 flights. Several centers have also been forced to shut down leaving behind several unpaid employees.
In May, unpaid pilots embarked on a strike against KFA following months of non-payment of salaries. The airline complied with the pilots' demands and paid them one month's arrears at a time.