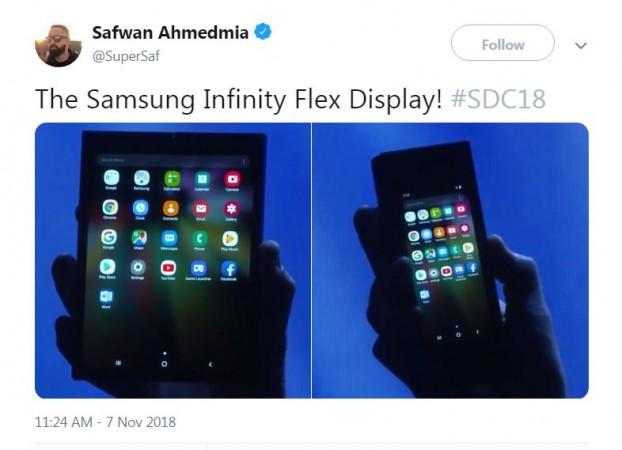 If you are making a fold-able phone you'd call it something that is self-explanatory and more importantly sounds nice. However, when you are a multi-billion dollar company, you'd need to use a little bit of the brain tank that you have in your office instead of going for the obvious because everybody is going for it.
So, what's the hiccup? Well, the next leap, when it comes to the smartphones, is having a foldable screen. LG, Huawei, and Samsung have all jumped in the bandwagon already and are coming up with one each. However, as the names of these foldable handsets are leaking in the big world web, we are confronted with a weird coincidence. The name of the products from these different companies are sounding similar; actually a bit too similar for their and our comfort.
The common word that appears in all the upcoming foldable phone's name is "Flex." Although it makes sense that you'd like to call your foldable phone "Flex," as it explains the whole uniqueness of the foldable phone, someone would need to change the name among LG, Huawei, and Samsung; otherwise we'll have three different brands' products but all named "Flex" this and "Flex" that.
LetsGoDigital got the wind that LG has gone ahead and lined up a series of trademarks with the European Union Intellectual Property Office. The names that are in their mind for their foldable phone is Foldi, Duplex and yes, "Flex." Phone Arena, on the other hand, chimed in and said, all three of the above-mentioned devices have been filed under the category 'Smartphones; Mobile Phones,' which means there is no doubt that LG might go ahead with one of these names to describe its flexible displays. It is also expected that the tech giant will manufacture the foldable displays for other companies as well, as the technology is too expensive to develop for all the smartphone manufacturers on its own.
However, if we go back to the names. The first two choices of LG, i.e. Flex and Foldi, sounds pretty straightforward and more importantly are similar to that of Samsung's Galaxy F and Huawei's Flexi/Flex trademarks. Duplex, on the other hand, is quite an interesting entry by the company, as Google is also using the same name to describe its new AI call-making feature. reported the publication.
Now, it appears that the company would need to think on their feet soon, as Samsung reportedly is more than keen on having the "Flex" word associated with their version of the foldable phone and plans to call it something on the tunes of "Samsung Flex" or "Galaxy Flex," as per as the chatter doing the rounds in the tech circles. Huwaei too, as mentioned earlier, has their heart set out on the names Mate F, Mate Fold, Mate "Flex" and Mate "Flexi."
What's in a name? Well, right now, everything.