Rumours about a foldable smartphone from major brands like Samsung, Huawei, LG and Apple have long been in the news, but a Chinese smartphone brand has surprisingly managed to beat the tech leaders in this race. China-based startup Royole (Rouyu) Technology launched the world's first foldable smartphone with a flexible display called FlexPai on Wednesday, positioning the newbie ahead of major corporations in terms of innovation.
Foldable smartphones have been marked as the future of mobile phones and tech enthusiasts are clamouring to know more about them. The technology in itself requires tremendous R&D efforts to make foldable phones more user-friendly and practical in day-to-day life. Royole's FlexPai could be the first step in that direction.
FlexPai can be pre-ordered for $1,588 for the 128GB variant and $1,759 for the 256GB model. The specifications of the phone haven't been detailed as yet, but the company offers a quick glance at what can be expected from its future-proof smartphone.
"Disrupting consumers' traditional concept of a smartphone, the unit can be used either folded or unfolded, giving it the portability of a smartphone plus the screen size of a high-definition tablet. FlexPai can be folded from 0 to 180 degrees. Say goodbye to rigid surfaces; FlexPai will completely change your perception of a traditional mobile phone and the need to own multiple mobile devices," Royole says about its technical marvel.
In terms of specifications, Royole FlexPai features a 7.8-inch massive display, which can be folded into a 4-inch screen. The AMOLED display has a screen resolution of 1920 x 1440 pixels with 4:3 aspect ratio. While the current trend is all about bezel-less screens, the FlexPai has thick bezels all around, which are easily overlooked by its foldable form factor.
Royole is justifying FlexPai's premium price tag with not just a flexible display, but also with top-notch features. The handset is said to be powered by Snapdragon 855, which the company is referring to as Snapdragon 8150 since Qualcomm is yet to officially announce it. Very subtle.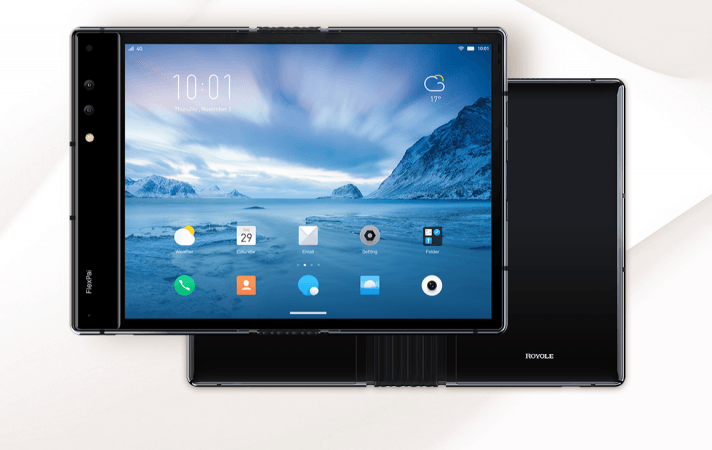 FlexPai also features an Adreno 640 GPU, 6GB/ 8GB RAM and a storage option of 512GB that is not listed on the company's pre-order page. On the camera front, there's a 16MP and 20MP dual camera setup, which can be used to shoot selfies as well. The Android version is not mentioned, but it runs the company's own Water OS, which by the looks of it looks clean, snappy and responsive.
Under the foldable hood, there's a 3,800mAh battery with 5V/5A fast charging via RoCharge technology. The device supports dual SIM cards, microSD cards, Bluetooth 5.1, Wi-Fi, and has a USB Type-C port for charging as well as to connect headphones.
FlexPai is 7.6mm thick and weighs 320grams, which doesn't sound quite comfortable. Utilising the foldable nature of the display, users will be able to drag photos or even calls from one side to another.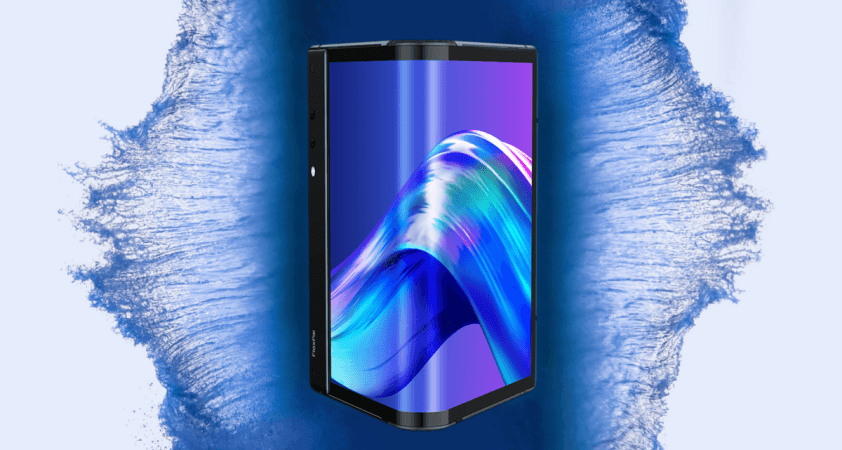 Clearly, FlexPai's arrival has taken us by surprise. Samsung, Apple and Huawei were the top contenders for the world's first commercial foldable smartphone and then we suddenly hear about this new brand turning the tables. In fact, Samsung CEO DJ Koh had said earlier this year that the development of a foldable smartphone was difficult but it had "nearly concluded it."
"When we deliver a foldable phone, it has to be really meaningful to our customers. If the user experience is not up to my standard, I don't want to deliver that kind of products." Koh said.
Let's see what the Galaxy X has in store for us all. Until then watch Royole's video below featuring FlexPai: