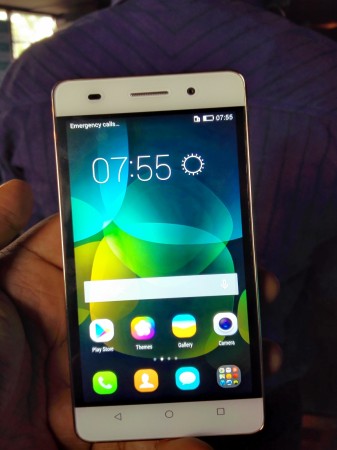 The under Rs 10,000 category is considered as the most popular in the Indian smartphone market. A recent survey explains around 75 percent of Indian smartphone consumers belongs to this category.
Naturally, producing one successful smartphone in this category can turn any smartphone manufacturer's destiny overnight. No wonder, most of the smartphone makers are trying their luck in this category.
Huawei recently released its two budget smartphones in India. While priced under Rs 5,000 Honor Bee was an exclusive offer for the India buyers, the Honor 4C -- with a price tag of Rs 8,999 -- will compete with 2 other popular smartphone as of now, Yu Yureka and Lenovo A7000.
While all the three smartphones are available for the same price, they focus into different levels of consumers. Running on Android 5.0 Lollipop, the Lenovo A7000 focuses on the consumers looking for a well performing budget multimedia smartphone. The Yu Yureka focuses on the young geeks who love the customisation ability of Cyanogen and needs an unlocked smartphone for further tweaking.
IB Times compares the specifications of the three smartphones to make the decision for buyers easier.
Design & Build Quality
Like most of the budget smartphones, Honor 4C, A7000 and Yu Yureka feature a matte-finish removable back panel, opening which you will get access to SIM card slots, Micro SD card slot and the battery. Though Lenovo A7000 and Yu Yureka feature removable battery, the Honor 4C features a non-removable battery.
All the three smartphones offer a good grip hence hold well and slips well inside the pocket. We would like to mention the build quality of Honor 4C which features an Honor 4X like cross textured back panel which looks really elegant.
[Read More: Lenovo A7000 Review]
Display
While Yu Yureka and Lenovo A7000 have a 5.5-inch display, the Honor 4C features a 5-inch display but retains the same 1280x720 pixels resolution. Since the display size of Honor 4C is 0.5-inch smaller than the other two, it offers a higher pixel density rate of 298.8ppi in comparison to 267ppi of A6000 and Yureka.
With ample colour presence and balanced saturation, all three phones offer a good appeal to the eyes. These phones also come with a great sunlight readability and decent viewing angle.
[Read More: Micromax Yu Yureka Review]
Processor and RAM
Lenovo A7000, Yu Yureka and Honor 4C run on Octa-Core processor, backed with 2GB RAM internal memory. While Yu Yureka packs a Snapdragon 615 MSM8939, Lenovo A7000 and Honor 4C feature 1.5GHz MediaTek MT6752m and 1.2GHz HiSillicon Kirin 620 SoC (system on chip) respectively.
Software
Lenovo A7000 leads the way in this segment by offering Android 5.0 Lollipop out of the box. Yu Yureka smartphones run on Android 4.4 Kitkat based CM11 and can be upgraded to Lollipop based CM12 OS. Honor 4C runs on Android 4.4 Kitkat operating system.
[Read More: Huawei Honor 4C Hands On]
Cameras
Both Honor 4C and Yu Yureka pack 13MP rear camera sensor and a 5MP sensor for the front. Lenovo A7000 stands lags behind as it offers an 8MP rear camera and a 5MP front camera. However, Lenovo A7000 camera works fine offering a decent image quality. The picture quality of Yu Yureka rear camera was the best in the segment.
[Read More: Micromax Yu Yureka vs Lenovo A6000 Head to Head Review]
Storage and Battery
Yu Yureka is the only smartphone in the comparison to offer 16GB in-built memory, the rest of the two come with 8GB. All three smartphones support memory expandability up to 32GB.
Powered by a 2900 mAh battery, Lenovo A7000 can be used for longer periods than its contemporaries. Honor 4C comes with 2550 mAh battery, while Yu Yureka packs a 2500 mAh battery.
Our Say
We would recommend Lenovo A7000 for the buyers looking for a prefect budget multimedia smartphone. The Honor 4C is for those looking for a really smartphone with a great camera, while the Yu Yureka is an overall well-performing phone with the power of Cyanogen.