Consumers looking for a budget smartphone are currently spoilt by choice, with smartphones available with amazing specifications in never before price tag.
However, noticing the buzz around the Lenovo A6000 and Micormax's Yu Yureka's debatable flash selling process has arguably made them the stand out in the budget smartphone category.
Micromax's Yu Yureka has experienced great success in all its past flash sales at Amazon and also claimed to be a killer smartphone with good price-to-specification ratio and the power of CyanogenMod.
On the other hand Lenovo's A6000 is the cheapest 4G smartphone available till date. It also acclaimed great response once debuted for the looks, specification and subtle performance.
Recently we reviewed both the devices individually and in this review we will find out which smartphone worth every penny you spend on it. Before going further let's remind you Lenovo A6000 is available for ₹6,999 which is ₹2,000 less than the Yu Yureka's selling price.
Design
The Yu Yureka and Lenovo A6000 are largely identical when it comes to design language. Both features plastic crafted back cover. Yu's with a matte finish with 'moonstone grey' effect rear and Lenovo's with a similar finished but better looking back cover.
Yu Yureka has intentionally wasted the below display place by sacrificing the necessary capacitive touch buttons. We didn't understand why it features the circle below the display while there is no control connected to it. Lenovo instead used the entire space very logically hence resulted an elegant looking device.
The Lenovo A6000 is also slimmer than the Yureka by 0.6 mm and weighs 26g less. Both the phone's are well constructed and feels solid in the hand.
Still, given its more compact size, and the inclusion of Dolby stereo speaker grill and for the stylish and compact look, this round goes to Lenovo A6000.
Winner: Lenovo A6000
Display
Much like the design element, the Yu Yureka and the Lenovo A6000 are fairly evenly matched when talking about the display quality, by sporting 720x1280 pixels. But while the Yu Yureka features a 5.5-inch display with 267ppi of pixel density level, the Lenovo A6000 has a smaller 5-inch display with little higher pixel density level at 294ppi.
However in terms of quality it's hard to judge the winner between the two. Both the phones offer subtle brightness, sharpness levels and decent viewing angles. But in real life use we found the Yu's display a little pale with less colour balance while the Lenovo A6000 remained subtle in this department. Both phones read well under direct sunlight but Lenovo lacks the necessary Corning Gorilla Glass protection.
Winner: Lenovo A6000
Performance
Like other Micromax-made siblings, Yureka features a robust specification. A Snapdragon 615 octa-core SoC has been married with 2GB worth RAM and 16GB of internal memory space. On the other hand the Lenovo A6000 comes powered by Qualcomm's latest quad-core SoC Snapdragon 410 with 1GB of RAM and 8GB of ROM. So it was no wonder Yu Yureka will achieve higher when benchmarked in AnTuTu with 32,484 compared to A6000's 20392. In Vellamo metal test the difference was just 113 where Yureka scored 946 in comparision with A6000's 813.
Winner: YU Yureka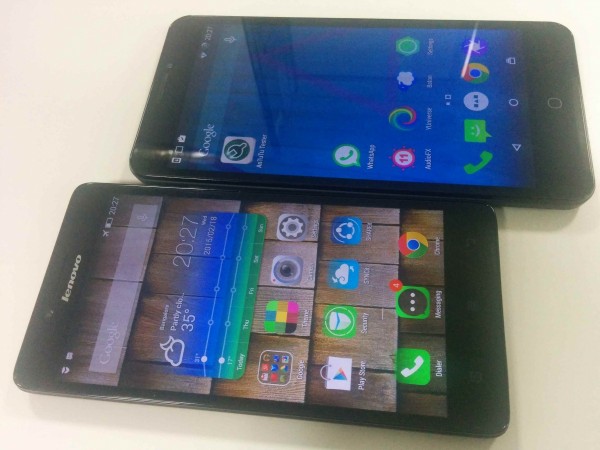 Software
Both the devices runs on Android Kitkat 4.4.4 overlaid with proprietary interface. While Yureka features the famous Cyanogen developed Cyanogemod 11s interface the A6000 features Lenovo's Vibe UI interface. Both the interface looks far apart from each other and may prefer by different type of consumers. With huge personalisation ability, Cyanogenmod is best for those geeky consumers who like total personalisation of the phone and the Vibe UI is suggested for those who don't prefer to tweak the interface too much.
Yureka featured Cyanogenmod has stock like interface with less bloatware on screen while Lenovo Vibe UI has essential Google app kit with much required security suite pre-installed. However, the Lenovo developed interface consumes almost half of the available RAM, which effects to stutter the system with memory hogging apps.
So, given the clean interface and all round smoothness, the Yureka comes out to the top when it comes to software.
Winner: YU Yureka
Camera
In this department also Yureka features a much powerful camera on papers. Comparing to its 13MP rear camera A6000 touts an 8MP rear camera. Both the camera features LED flash and much required autofocus feature.
Both the camera proved fairly evenly matched in our test by providing crisp, detailed images with ample colours, thanks to the decent and fast auto focus ability.
However, we did noticed slight saturation issues with the A6000's images and also struggled to match the Yureka's primar camera in low light.
Both the phone has featured a simple intuitive and easy to use interface which may prove handy to point-and-shoot type clickers.
Winner: Yu Yureka
Battery
By offering the phones in lowest possible price, both the phone has cut down in few areas and battery is one among them. The Yureka packs a 2500 mAh battery while the A6000 comes powered by a 2300 mAh battery. Yureka quotes stand by time of 210h and 8h talk time and the A6000 quotes 264h of standby time and 22h of talk time.
In our real life battery burn test the A6000 fairly outlives the Yureka with significant difference. In mixed usage of watching a two-hour movie, 3 hours music, 3 hours in WiFi and rest in 3G, calling and texting the A6000 lasted around 18 hours while the Yureka lasted almost half a day. The difference is probably because of the A6000's .5-inch smaller display and less powerful hardware configuration, we also noticed slight heating problem with the Yureka.
Winner: Lenovo A6000
Price and Availability
Both the phones are available through pre-booked flash sales method via different sellers. Lenovo A6000 flash sales happen every Wednesday on Flipkart through pre register process and Yureka is available through same selling process via Amazon every Thursday.
Overall Winner
Both the smartphone offers 64-bit computing, 4G connectivity, decent built, camera and usability but honestly both the phones are good in its price. We would recommend Lenovo A6000 if you are looking for a compact all round 4G smartphone in lowest available price. Yureka is the best for the users who prefer to play more with their smartphone.