Indian cricket team captain Virat Kohli has adopted a boring approach to his game. Celebrated cricket commentator Harsha Bhogle best described the Delhi batsman's unvarying batting performances in the recent past.
"Nothing unusual. Just no 35. A routine day, really," Bhogle had written on Twitter while describing Kohli's 35th ODI century in South Africa last month.
Nothing unusual. Just no 35. A routine day, really.

— Harsha Bhogle (@bhogleharsha) February 16, 2018
Kohli has certainly redefined consistency. The 29-year-old has been rewriting record books at will. Opposition teams have been struggling ways to stop him from scoring runs aplenty. For instance, the right-hander hit 558 runs, including three centuries, to help India clinch an unprecedented ODI series win in South Africa earlier this year.
Would like to play on Kohli's mind: McGrath
As it turns out, Australian pace great Glen McGrath has revealed what modern day bowlers can do to stop Kohli from amassing runs. The 48-year-old said he would look to play on the top-ranked ODI batsman's mind by bowling a "defensive line" after setting an "aggressive field".
McGrath also shed light on the ideal length and line, which he believes, would prevent Kohli from "scoring freely".
"Kohli is a quality batsman, a confidence player, and as a bowler, I would cut off his scoring areas and build pressure. He is good through the off-side, I would block him there. He is good off his legs too and again I would deny him runs in that area," McGrath told Sportstar live.
"Kohli is solid technically, has an aggressive attitude, goes about his cricket with passion and I would like to play on his mind, prevent him from scoring freely," he added.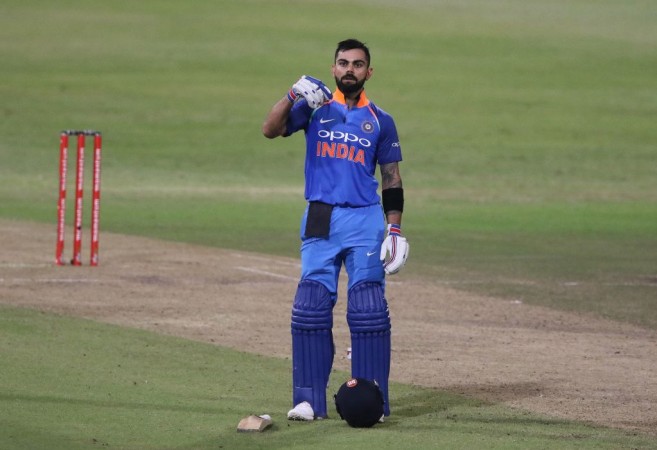 "And I would bowl an in-between length at Kohli, neither too full nor too short and cramp him for room.
"For instance, you could have an aggressive field and bowl a defensive line. There are areas to score but the ball is not there to be hit. It forces mistakes."
McGrath refuses to comment on Kohli vs Tendulkar
Meanwhile, McGrath also added he did not want to compare Sachin Tendulkar with Kohli -- players from two different eras.
Nonetheless, Kohli has been drawing comparisons to Tendulkar with his run-scoring spree over the last few years. The Indian captain is second on the list of batsmen with most ODI centuries, only 14 behind the batting great, who ended his career with 49 tons.
Former cricketers have backed Kohli to break the Master Blaster's record, at least in the limited-over format of the game. The Indian skipper had hit six centuries in 2017 and has already hit three in the ongoing year.
"I don't like to compare eras. Every era makes it own demands and the pitches, generally, are better for batting these days. Sachin, on his day, could decimate attacks. Kohli is a very attacking batsman too," McGrath opined.