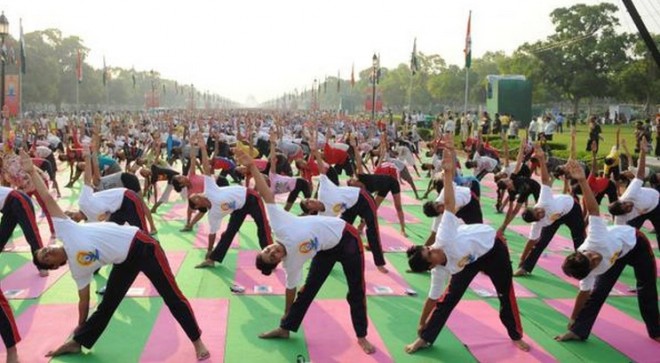 This Sunday, India and the rest of the world will mark the first ever International Day of Yoga.
The United Nations had declared 21 June as International Yoga Day last December, following Indian Prime Minister Narendra Modi's call for a day dedicated to yoga during his speech at the United Nations General Assembly last year.
Modi himself will lead the first International Yoga Day in India by performing asanas at Rajpath in Delhi along with more than 35,000 people, in what could go down as a world record.
The Prime Minister has also been educating his 13 million followers on Twitter about the different asanas with daily posts.
Here's an example:
Here is more about Bhramari Pranayama, its benefits and why you must practice it. #YogaDay https://t.co/Z7ZT6Cv4a9

— Narendra Modi (@narendramodi) June 19, 2015
Across the country, school students, the armed forces and citizens are preparing for the Yoga day with rehearsals and training.
Rajpath is being readied for the big day, which is believed to be as grand as Republic Day celebrations. The venue will be fitted with 23 LED screens and 150 CCTV cameras and will be manned by 3,000 police personnel.
Here's a look at Yoga rehearsals at Rajpath:
#YogaDay Rehearsal at Rajpath, New Delhi, this morning. @airnewsalerts @DDNewsLive pic.twitter.com/ayH8JhxmGT

— Sitanshu Kar (@SpokespersonMoD) June 19, 2015
Yoga for all! The capital prepared for #YogaDay with a full rehearsal earlier today on the Rajpath. pic.twitter.com/MEHiWtDMlW — Vikas Swarup (@MEAIndia) June 19, 2015
The Indian armed forces are also preparing to join in the Yoga Day celebrations in full force, with an event reportedly planned even in Siachen, the highest battleground in the world.
From the Siachen Base Camp…the Indian Army Personnel practising Yoga, all geared up for #YogaDay! pic.twitter.com/gDX0VLqjSU — Narendra Modi (@narendramodi) June 17, 2015
The Indian Navy has been holding training sessions even at sea.
Yoga across oceans…remarkable, innovative & appreciable effort by our Navy for #YogaDay http://t.co/8lJfsJz2fI pic.twitter.com/OyTWU455t2 — Narendra Modi (@narendramodi) June 16, 2015
However, it is not just in India that the buzz around Yoga Day is growing. The day will be observed in over 250 cities in 192 countries.
New York, United States
At Times Square in New York, the International Yoga Day will see thousands of people performing Yoga, given that it also falls on the day of the summer solstice on 21 June. Yoga enthusiasts have been gathering every year at Times Square to perform day-long yoga during the summer solstice, and on this Yoga Day, the 'yogis' will have a stronger purpose.
Sunday is International Yoga Day. Join thousands of yogies in @TimesSquareNYC for #SolsticeTSq http://t.co/P99N6i8sw0 pic.twitter.com/Kz0cSVI6d0 — twitcam (@twitcam) June 16, 2015
China
In China, a Yoga Festival is already underway, having started on Wednesday and culminating on the International Yoga Day on Sunday. Hundreds of yoga enthusiasts have been training under Yoga teachers at the India-China International Yoga Festival in Dujiangyan, which lies in the southwestern Sichuan province of China. In fact, China also got its first Yoga college, following PM Modi's visit in May this year.
China's first yoga college set up More here: http://t.co/9zIqEMj058 via @sphasiaone pic.twitter.com/xrGzKFaOa4 — Indian Diplomacy (@IndianDiplomacy) June 15, 2015
Dubai, UAE
Dubai has planned several large-scale events for the Yoga Day on Sunday, with thousands expected to join. More than 12,000 enthusiasts have reportedly registered to participate in the Indian consulate's 'Dubai Wave' event for Yoga Day, according to Khaleej Times. Indian Olympic medallist Mary Kom will be the chief gueast at the event.
Dubai already held a Yoga event on 12 June.
1st International #Day of #Yoga today at @zabeelpark #Dubai by @friendsofyoga & @DubaiMunicipality #mydubai #uae pic.twitter.com/VYC6I2FSLe — GoDubai.com (@GoDubaicom) June 12, 2015
Paris, France
In Paris, hundreds of people will gather to perform Yoga at the foot of the iconic Eiffel tower.
#YogaDay Daily Yoga sessions on EIFFEL TOWER till 21 June in association with Lolë, My Little Paris, Eiffel Tower pic.twitter.com/zI8unifBNv — India in France (@Indian_Embassy) June 16, 2015
UK
Several Yoga events have been planned in the United Kingdom for Sunday, including at the House of Lords in London, and across Edinburgh, Glasgow, Coventry, Leicester, Manchester and Birmingham.
In fact, the Indian High Commission in London has shared a calendar of all yoga events planned in the UK.
Calender of events all across the UK - 21st June- International Day of Yoga http://t.co/2Tg8mqHNJy — India in the UK (@HCI_London) June 18, 2015
Canada
The Indian High commissioner in Canada has said that there has been an 'overhwelming response' for participation in Yoga Day events in Ottawa, Canada.
Overwhelming response for INTERNATIONAL DAY OF YOGA on 21 June in OTTAWA - Few spots left - register today http://t.co/RHavZ2IukP — Vishnu Prakash (@AmbVPrakash) June 18, 2015
Russia
Several yoga events have also been planned in Russia, and Indian External affairs Ministry spokesperson Vikas Swarup shared pictures of rehearsals in Russia for Yoga Day.
From Russia, with Yoga. #YogaDay pic.twitter.com/omEtURghRW

— Vikas Swarup (@MEAIndia) June 19, 2015
This list will be updated with events planned in other countries.