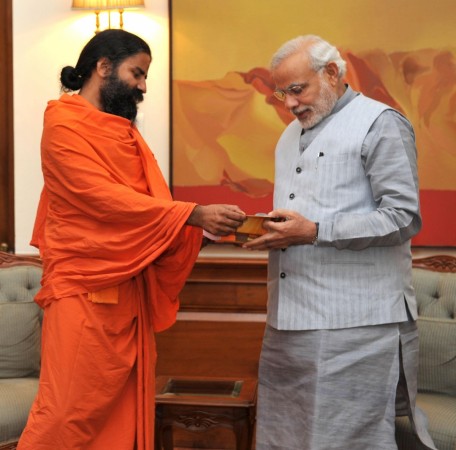 Prime Minister Narendra Modi will do several asanas and exercises on the first International Yoga Day, 21 June, along with about 40,000 people at Rajpath in Delhi, in what could very well make a world record.
Modi will be joined by some of his ministers, several defence personnel and thousands of school children on the Yoga Day celebrations, while several top Bollywood stars, including Amitabh Bachchan and Shilpa Shetty, and sportsmen Virat Kohli and Sushil Kumar will take over as brand ambassadors for the day.
In fact, Modi has even invited Opposition members and rivals, including Delhi Chief Minister Arvind Kejriwal to join in on the Yoga Day.
The session is expected to kick off at 6.45 am on 21 June, and the Prime Minister and others will perform at least 15 Yoga asanas for about 30 minutes.
The event is expected to enter the Guinness Book of World Records for the "largest yoga demonstration at a single venue", and the world record will complete Modi's vision of a phenomenal start to the International Yoga Day.
Modi had first called for a global day dedicated to Yoga in his speech at the UN General Assembly last year during his visit to the United States, and the UN had declared the International Yoga Day last year, on 11 December.
To ensure maximum publicity, the Modi government's I&B ministry has asked all broadcasters to show 30-second videos to promote the event at least four times a day.
And it is not only in India that people will be performing Yoga on 21 June. Live broadcasts will be shown in 176 countries, where people can follow the asanas in their living rooms.
PM Modi has already begun educating people about the different asanas, posting on Twitter that he will share details on one asana every day.
Today onwards will share details on Asanas. We begin with Standing Postures, first of which is Tadasana #YogaDay pic.twitter.com/aJIvhUnySN

— Narendra Modi (@narendramodi) June 3, 2015
For improved neuromuscular coordination, balance & rejuvenated ligaments, do practice Vrikshasana. #YogaDay https://t.co/5Dja0CKOf8 — Narendra Modi (@narendramodi) June 4, 2015