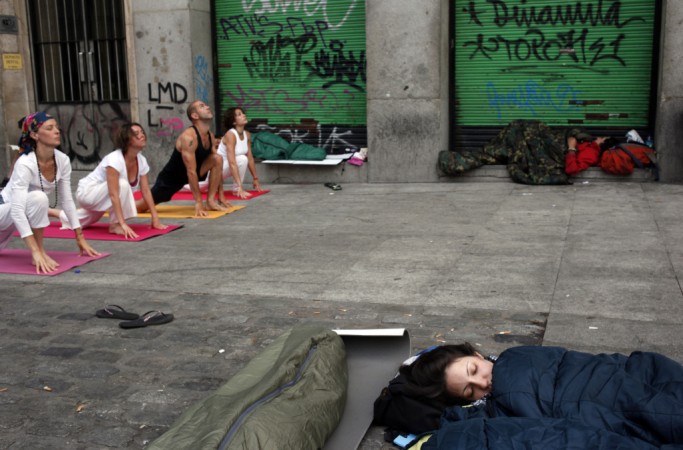 Unlike some Indian Muslim organisations, Islamic Dubai has no qualms about yoga and is all set to host not one, but two mass yoga sessions this month to celebrate the first International Yoga Day.
The first one will be held on 12 June at Dubai's Zabeel Park, where about 3,000 people are expected to participate. The event will be hosted by Dubai Municipality, in coordination with Friends of Yoga.
The session will be held from 6.30 pm to 9.30pm and will include entertainment activities to be witnessed by about 12,000 visitors.
The second one, to be organised by the Indian consulate in Dubai and Al Wasl Football Club, will be held on the official International Yoga Day on 21 June at the Al Wasl Club at night, in which about 15,000 people are expected to participate, according to Gulf News.
Dubai is one of the seven emirates of the United Arab Emirates whose official religion is Islam.
"We are extremely pleased to celebrate the International Day of Yoga in Dubai as this would help Dubai position itself on the global yoga map.The civic authority is always keen on promoting a fitness culture among the residents. We urge the residents in Dubai and other emirates to join the event and get inspired to follow the practice throughout their life," Mohammad Al Fardan, Director of Parks and Horticulture Department, Dubai Municipality said in a press statement.
The United Nations recently decided to mark 21 June as International Yoga Day and the resolution was passed by 170 countries, including several Muslim countries.
Indian embassies in several Muslim-majority countries like Afghanistan, Jordan, Turkmenistan and Tunisia will also organise yoga sessions overseen by gurus who would teach 'Asanas,' Deccan Herald reported.
Pakistan currently has not granted visas to Indian yoga teachers. However, the Indian High Commission in Islamabad is expected to hold yoga sessions within its premises on 21 June.
Protesting against the Modi government's plans of including surya namaskar as part of yoga sessions in schools on 21 June, the All India Muslim Personal Law Board (AIMPLB) had called the UN Observance as ""Hindu religious practises."
After repeated protests by the minority body, the Indian government decided to not include surya namaskar as part of the yoga sessions in school, Times of India reported.