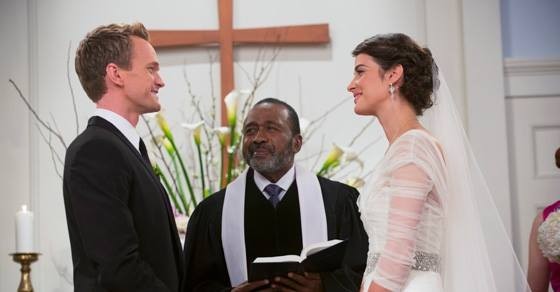 Fans of "How I Met Your Mother" starsTed and Robin were in for a disappointment last week when it was shown that Robin, despite her hesitation, marries Barney.
Speculations of Robin ditching Barney for Ted had gained momentum weeks before the episode titled "The End of the Aisle" was aired. When Robin suggested to Ted that they elope to Chicago as she felt Barney wasn't her true love, fans of Ted-Robin rejoiced.
"You know what 'legendary' means? It means not real" Robin tells Ted about Barney's catchword, adding, "All of Barney's gestures are based on lies."
But in the end, Ted convinces Robin to marry Barney. "I am not your future. Barney is," Ted tells Robin. "I'm not that guy anymore. The truth is, I don't love you like that anymore, and you don't love me."
But it appears that the theory of Robin ending up with Ted still holds good and show creators might have given an indication of the ending in the previous episode.
In the future Ted tells his children that a number of things did not go as planned during Robin and Barney's wedding, and he sums it up saying, "The wedding was legendary."
Does that mean the wedding wasn't real? Fans believe it is too much of a coincidence for Robin to define "legendary" as not real, and then for Ted to use the word to describe the wedding.
"If Legendary means "not real" the wedding was "legendary", Barney and Robin will divorce? #HIMYM," a fan questioned on Twitter.
Speaking about the finale, Alyson Hannigan, who plays the role of Lily Aldrin, recently told Jimmy Kimmel Live that the finale episode will wrap up all the loose ends.
"I think the writers really wrap the show up the way the fans would want it to be wrapped up. They're going to answer all the million questions that everybody has and more," she said.
How I Met Your Mother creator Carter Bays noted that the ending is a fitting farewell.
"I hope people feel the love that went into making not just this finale, but this entire series," Bays was quoted as saying by E!Online. "This is the ending we've been writing toward from the beginning. There will be laughs and tears along the way, but ultimately it's a very fond farewell."
The finale episode of How I Met Your Mother titled "Last Forever" will airs on March 31.