Hope Hicks, White House Communications Director and one of Donald Trump's most trusted aides, is resigning from her post and set to leave the White House
Hicks has turned out to be a key part of the Russian probe due to her relationship with Rob Porter and was interrogated by lawmakers for about nine hours on Tuesday. But her resignation has no connection to the probe, according to White House spokeswoman Sarah Huckabee Sanders.
The US president has said that Hicks was "a truly great person" and he would miss working with her.
Hope is outstanding and has done great work for the last three years," the New York Times quoted Trump as saying. "She is as smart and thoughtful as they come, a truly great person. I will miss having her by my side, but when she approached me about pursuing other opportunities, I totally understood. I am sure we will work together again in the future."
Hicks too said that she loved her term at the White House and that she had "no words" to express her gratitude.
First daughter and advisor to Trump, Ivanka also bid farewell to Hicks on Wednesday and appreciated her work for the Trump admin. "Hope Hicks is loved & admired by all who know her. It's with a heavy heart, but tremendous gratitude, that I wish her well in her next steps," she tweeted.
Hope Hicks is loved & admired by all who know her. It's with a heavy heart, but tremendous gratitude, that I wish her well in her next steps

— Ivanka Trump (@IvankaTrump) February 28, 2018
On Tuesday, Hicks was questioned about the reported Russian hand in the 2016 US presidential election. During the interrogation, she had admitted that there have been times when she has "lied for Trump," but said that she had always spoken the truth in regards to the Russian probe.
She was then questioned about her job with the Trump admin, which she refused to answer. She also did not reveal if other Trump aides lie and did not implicate any other senior members of the White House.
The rise of Hope Hicks
The 29-year-old stunner started off as a model but later moved to public relations and joined New York City firm Zeno Group. She then moved to public relations firm Hiltzik Strategies in 2012 and worked for several of the firm's clients.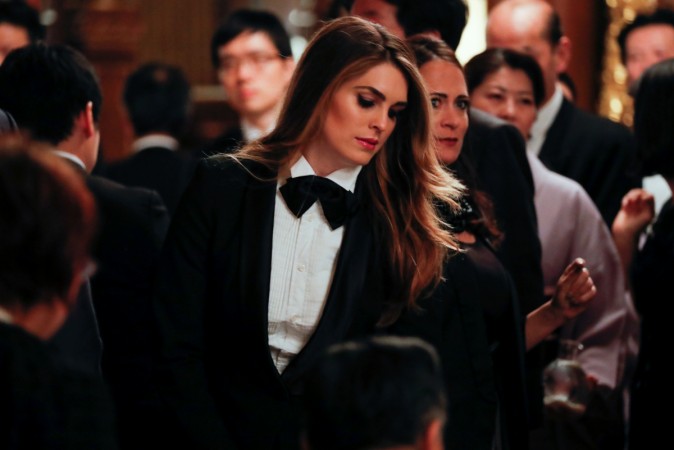 Her first brush with the first family of the US was through this job as Ivanka was Hiltzik Strategies' client for her fashion line. the firm also handled several projects of the Trump ventures.
In 2014, she left Hiltzik Strategies and joined the Trump Organisation full-time, working closely with Ivanka on her fashion label and online store. The job brought her into the limelight and Trump then picked her for the role of his press secretary.
Until then, Hicks had no experience in politics but took up Trump's offer. She slowly rose up the ranks and her efficiency and loyalty helped her snag the position of the White House Communications Director.
The Coffee Cup reference
While she has often been lauded for her efficiency, loyalty and dedication -- she split with her boyfriend of six years due to her hectic schedule -- Trump seems to have taken a jibe even at Hicks.
Trump's former campaign manager Corey Lewandowski had earlier revealed that the US president had once told him that Hicks knew nothing about politics and "had about as much experience as a coffee cup," but the fact that she was "good looking" had helped her.
Lewandowski made the revelation in his campaign memoir "Let Trump Be Trump."
"When we started this thing, it was you and me, and an airplane," Trump told Lewandowski, according to the book. "That's all we had." To this Lewandowski said: "And we had Hope." That is when Trump is said to have compared Hicks to a "coffee cup," but when Lewandowski said that the 29-year-old was good looking, Trump had agreed and responded: "That always helps."
Well, "coffee cup" or not, Trump clearly trusts Hicks and author Michael Wolff even spoke about this trust in his book "Fire and Fury: Inside the Trump White House."
The book says that Trump believes women are less ambitious and more loyal and even refers to them as the US president's office wives. And Wolff's words seem to ring true in a lot of ways considering he has employed three women in some of the most important positions – Ivanka as his senior advisor, Hicks as communications director and Sanders as his press secretary.