As another year comes to an end, the tradition of annual insights begins. After Google revealed its "Year in Search" recently, Twitter has shared insights on 2018 trends in India, which show how brands and people connect with each other on the social media platform.
Twitter revealed the top 10 most engaging brands of 2018 in India and the list is dominated by mobile phone brands. From Honor India to Samsung Mobile India and OnePlus India, phone brands made a point to respond to user queries and concerns and also make important announcements on the micro-blogging platform.
Honor India's engagement on Twitter superseded every other brand account. From the highest number of Retweets to attractive campaigns, Honor India reached a massive audience base on the platform. The Chinese phone brand's Diwali campaign garnered close to 20,000 RTs, making it the top retweeted tweet.
Samsung Mobile India also had a generous reach and its emotive video tweet announcing the partnership with Asha Ek Hope foundation was the top retweeted tweet for the brand in 2018. Similarly, OnePlus India's promotions for OnePlus 5 and OnePlus 6 grabbed highest RTs for the brand. Xiaomi India and Motorola India completed the top 5 most engaging brands list on Twitter this year.
Below is the complete list of Top 10 Most Engaging Brands in India: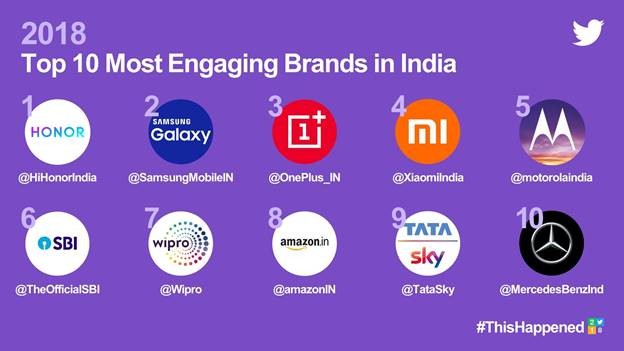 State Bank of India
Wipro
Amazon India
Tata Sky
Mercedes-Benz India
Twitter not solely for sharing tweets, but users can also share videos on the platform. Most brands post videos to advertise a new product, promote a campaign and simply send a message. Once again, mobile brands dominated the list of top 10 brands based on video views on Twitter in 2018, but there are some new entries as compared to the previous list.
Google India's use of videos for engagement outranked every other brand and the company's Pixel 2 video featuring Anushka Sharma garnered 3.35 million views. Samsung Mobile India came in second in the list, followed by Honor India. Motorola India came in at the sixth spot in this category while LG India made the cut by grabbing the eight position.
Here's the complete list of Top 10 Brands based on Video Views in India:
Google India
Samsung Mobile India
Honor India
Nexa Experience
Tata Motors
Motorola India
Flipkart
LG India
Air Vistara
Hero Motors