Hong Kong is all set to ring in the New Year 2018 in its signature style – with a crowd full of revellers stringing along the waterside to experience the breathtaking display of fireworks. But that isn't all.
This year, as promised by the authorities, the display is set to be even more magical, all owing to the 20th anniversary of the Hong Kong Tourism Board.
Also read: Crouching Tiger star Chow Yun-fat passed away in Hong Kong? Wife says NO
The display area has been widened by 35 percent and fireworks are being incorporated into the 10 -minute multimedia show that has been created by an award winning European artist.
A series of performances has been lined up to entertain the viewers before the fireworks take the place. Starting from around 10 pm, Hong Kong time, a "Deco-Sphere" performance headlined by Australian performance group Strange Fruit will "warm up the crowds", according to the Hong Kong Tourism Board.
This will be followed by the "fusion of theatre, dance and circus", taking place at the Tsim Sha Tsui Pier near Star House.
From 11pm, the show gets real as a series of pyrotechnic performances featuring "shooting stars" every 15 minutes will keep entertaining the crowd, until the clock strikes midnight and the fireworks set off to amaze everyone, yet again!
But those unable to make it to Victoria Harbour in person needn't worry. Practically anybody from anywhere in the world at all can enjoy the display that Hong Kong promises this year, sitting just in the comforts of their home: A live stream of the fireworks will be featured on the YouTube channel of the Hong Kong Tourism Board.
As for the people attending the celebrations at Victoria Harbour, the most popular and preferred vantage points view the display are the Tsim Sha Tsui waterfront, including Hong Kong Cultural Centre Open Piazza and Tsim Sha Tsui Promenade, The Central harbourfront area, including Central Piers 9 & 10 and Golden Bauhinia Square, Wan Chai.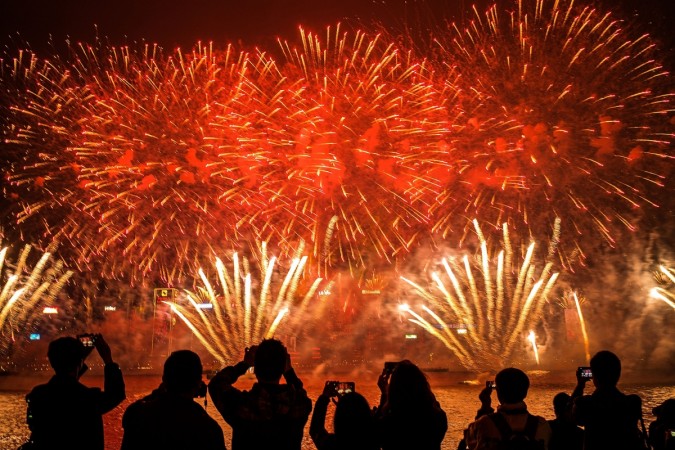 There are also multiple New Year's Eve Fireworks Cruises available for those who want to enjoy the display on the water. And to everybody's delight, food trucks will abound the place, starting from 8:45 pm.
The final countdown, as expected, will start exactly a minute to midnight and matching the previous years' tradition, the focal point will be at the Hong Kong Convention and Exhibition Centre.