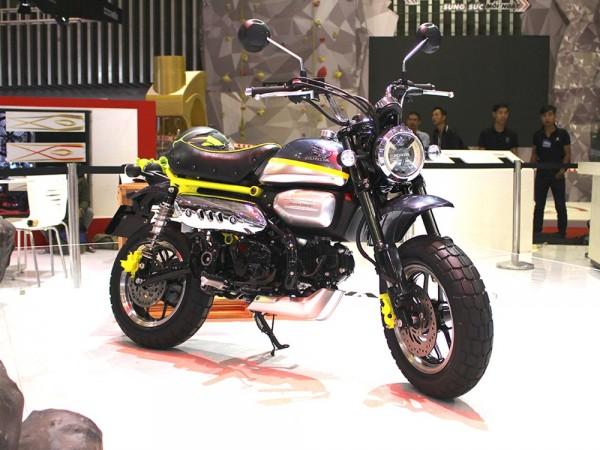 Japanese motorcycle maker Honda has unveiled Money 125, a funky scrambler concept at the ongoing Vietnam Motorcycle Show. Based on the MSX125 aka Grom in some markets, the Monkey 125 in metal does justice to the patent images leaked in September 2016.
Also read: Vespa beware! Honda Scoopy scooter with retro-modern design coming to India
For uninitiated, Monkey bike is the name given by Honda to one of their small, low-powered motorcycles introduced in the 1960s. Honda still sells the Z50 monkey bike in Japan. Since the new Monkey 125 concept is based on the MSX, it is much larger than the original Z50 monkey bike. The MSX comes with 1760mm in length and 1010mm wheelbase and 12-inch wheels. On the other hand, the Z50 Monkey is 1365mm long with an 895mm wheelbase and 8-inch wheels.
The Money 125 concept is also powered by the same fuel-injected 124.9cc engine in the MSX 125. The mill develops 9.8bhp of power and 10.9Nm of torque. The Monkey 125 is fitted with inverted forks at front just like the MSX while rear gets dual shock absorbers. The subframe is replaced with a fluorescent tubular one to hold the Monkey's single seat. Both wheels are tamed with disc brakes while the alloy wheels borrowed from the MSX features a two-tone black and silver finish to set it apart. The alloy wheels are wrapped in with Maxxis Tortuga tyres.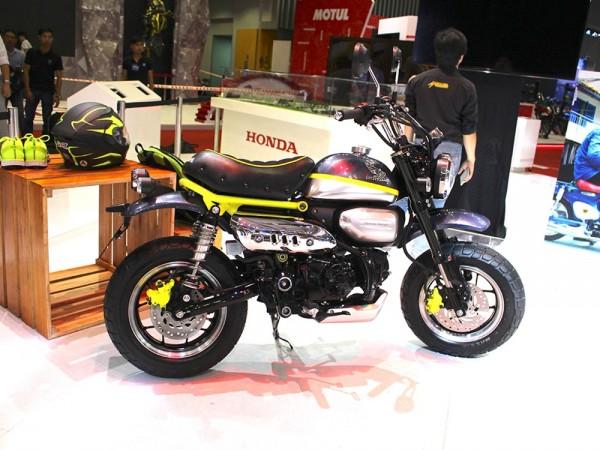 On the design, the Money 125 concept looks like a miniature Ducati Scrambler. The florescent yellow hues in cycle parts, circular digital instrument cluster and LED headlamp are typical scrambler-ish additions. The motorcycle concept also carries high ground clearance, off-road spec tyres and light weight making it an ideal off-road bike. In addition, the Moneky 125 concept also comes with raised exhaust with heat shield and bash plate for engine protection.
Honda has not divulged any detail on the production version of the Monkey 125. The Monkey 125's India entry is unlikely since it will not be a mass market model here.
Picture source: Huy Nguyen/ motorcyclenews.com