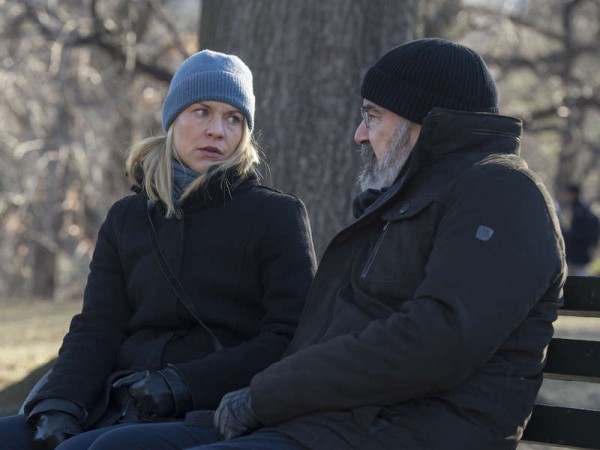 Homeland is just a month away from its season 7 premiere and the fans are desperate to know if the new season will feature a reunion between Carrie Mathison and Saul Berenson.
The promotional videos for the new season hint at a rivalry between the former CIA officer Mathison and her mentor Berenson. Meanwhile, the official synopsis for episode 1, titled Enemy of the State, states that Berenson will be behind bars when the season opens.
Check out the synopsis below:
Carrie and Franny are living with Maggie's family in DC. Saul and the federal employees detained after the attempt on the President-elect's life are in prison. President Keane's administration comes under scrutiny.
Also read Homeland season 7 spoilers: Gansa explains the plot in depth
However, fans of the popular political drama series do not have to be disappointed. Cast member Mandy Patinkin, who portrays the role of CIA official Berenson, has already teased a reunion between his character and the former CIA officer Mathison.
Here's what the actor said about the relationship between the two CIA officials:
In spite of the friction that goes on between them, and the tense moments at times, when he sees clearly, he knows that the gift of his life is this character, Carrie Mathison. He makes one mistake—probably the greatest mistake that he made in six years of the series—which is to think of himself first this time, when he was being thrown under the bus, and protect himself.

All great men usually are awakened by the great women in their lives. No matter what friction is there, if that relationship was there, that usually is their best friend, at the end of the day.
Patinkin also opened up about the two major subplots that could be featured in the upcoming season. While one of them is "attention to the truth and facts", the other one is about refugee crisis.
"There are a couple of things I'm hoping for, and certainly will chat with Alex and campaign, to some degree, for. One, I think will happen because it has to happen, which is what became such a focal point of this season—attention to the truth, and facts. Real facts—not false information, not bots, not sock puppets, but truth, which has become an essential debate and concern all over the world," the actor said in an interview with Deadline.
"There are two other areas that are personally deeply important to me, that I hope the show can attend to in some way—one, being the refugee crisis. These are the most vulnerable people among us in the world. I hope that something can be done in our piece that reflects on the attention that needs to be paid to the most vulnerable people in the world right now, that have to not be politicized, but saved, literally," he added.