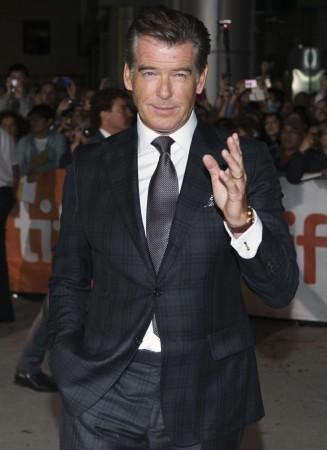 James Bond star Pierce Brosnan on Thursday offered "heartfelt apologies" to all those who were offended by the Pan Bahar advertisement, saying that the company violated contract by making him represent the entire product line, including the "mouth freshener".
The Hollywood actor said that he was "shocked and saddened" due to the false and unauthorised use of his image to promote a product that is dangerous to health. He blamed the company for "grossly manipulating" the media into believing that he advertised the brand.
"As a man who has spent decades championing women's healthcare and environmental protection, I was distressed to learn of Pan Bahar's unauthorized and deceptive use of my image to endorse their range of pan masala products. I would never have entered into an agreement to promote a product in India that is dangerous to one's health," Brosnan said in an exclusive statement to People magazine.
Personal loss
Brosnan also mentioned that "having endured, in my own personal life, the loss of my first wife and daughter as well as numerous friends to cancer, I am fully committed to supporting women's healthcare and research programs that improve human health and alleviate suffering."
Brosnan's contract had clearly stated that he would have to endorse a "breath freshener/tooth whitener" that would not include ingredients that turn the saliva red. Also, he had agreed to endorse just one product that was presented to him as "all-natural containing neither tobacco, supari, nor any other harmful ingredient."
"I shall endeavor to rectify this matter. In the meantime, please accept my sincerest and heartfelt apologies to all whom I have offended," the actor said while concluding his statement.
Brosnan faced a lot of flak for his endorsement of Pan Bahar on Twitter, with people expressing anger and ridiculing him at the same time.
People react to Brosnan's apology
Pierce Brosnan says he didn't know reality of Pan Bahar before he signed up to advertise. Sounds like a Delhi resident who voted for AAP.

— Rahul Roushan (@rahulroushan) October 20, 2016
Poor old #PierceBrosnan. Must be dark days when you blindly sign a contract without reading what it is you're lending your mug for. — Hayden Scott (@ScottSaab) October 21, 2016
#PierceBrosnan says he didn't know wat #PanBahar was before endorsing it!
Do you use a toothpick as a ear cleaner?

— Sharita Sarmah (@Sharita_ghy4u) October 21, 2016
Pierce Brosnan will soon find out that the "Shaken but not stirred Martini" he was having all these years was actually Masala Limca. — Gabbbar (@GabbbarSingh) October 21, 2016
Pierce Brosnan says he didn't know what he was selling.
The Clueless Bond: My Name is Bond, Vagabond !

— Rasheed Kappan (@kappansky) October 21, 2016