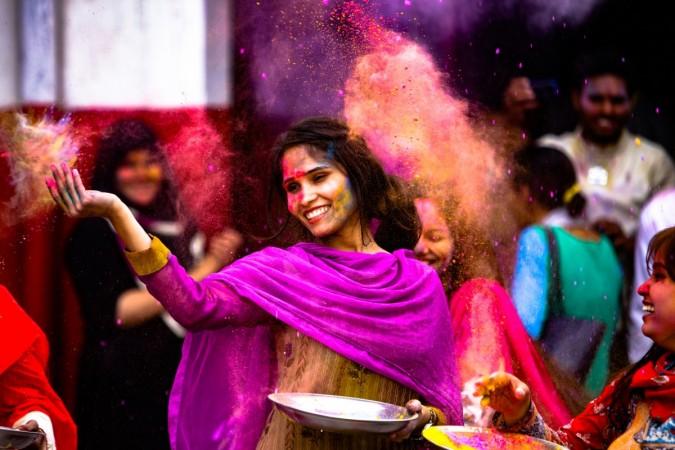 Be it splashing bucketfuls of colored water or just tiny pellets – the vibrancy and fun that comes from playing around with colors on Holi is all fun and games until the ever so dreaded time to get those stains off your skin and hair arrives.
And sometimes, extreme amounts of scrubbing and lathering up with soap, face wash and even shampoo doesn't seem to be of any help with getting the impossible task done. Not to mention the harmful chemicals in those colors, that are easily capable of damaging the hair and the skin.
But not anymore! With the festival of colours less than two weeks away, it's time to unleash those really easy tricks that could help taking off Holi colors just as easy as the amount of fun you get from playing with them.
Tips to save your skin from Holi colors:
1. Apply generous amounts of either baby oil, moisturizer or foundation on your skin.
2. Ditch the shorts and tank tops for full-length pants and stay as covered as possible.
3. Apply thick layers of chap sticks on any lubricating jelly on your lips.
4. Wear sunscreen at least 30-45 minutes before you head out to play; it protects you from getting tan as well.
5. After playing, make a pack of wheat flour and lemon and apply it on your skin to scrub off the colors right before you shower.
6. Avoid washing your face again and again as it dries up the colour.
7. Use cold water to wash your face.
8. Cotton balls soaked in coconut oil can be used to wipe off colours easily too.
9. Paint your nails with thick coats of a dark colour as it will save your nails from staining.
10. For much harsher colours, wash them off as soon as possible.
Tips to save your hair from Holi colors:
1. Apply copious amounts of hair oil – preferably coconut – and braid and tie it up.
2. Avoid shampooing immediately after you're done playing.
3. Use a mask made of egg yolk or curd and apply it so you can rest it for a minimum of 45 minutes before shampooing. It reduces the amounts of damage.
4. Before shampoo, make sure to properly rinse out your hair with cool water first.
5. A few drops of lemon juice in curd or even methi (fenugreek) powder mixed with curd works as an extremely beneficial hair mask. Let it rest for a couple of minutes before shampooing.
But all those tips combined couldn't ever compare to the biggest tip of all, and this is to have lots and lots of fun. Try sticking to dry colours as well as organic colours and you're sorted for the splash!