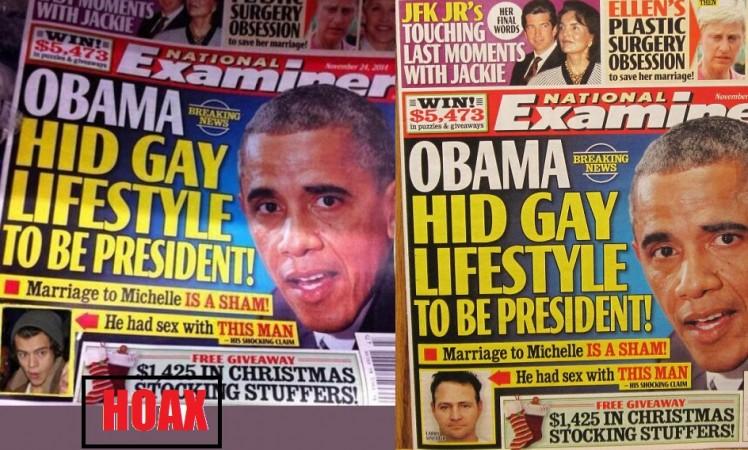 A report claiming that the National Examiner carried a story on a gay relationship between President Barack Obama and Harry Styles is found to have been an elaborate hoax.
The false story that seems to have its origin on Twitter has now gone viral. A report in the Gay Star News that carried the story with the headline - "US tabloid makes bizarre claim 1D's Harry Styles and President Obama had gay affair" - even provoked a reaction from Styles, who while rubbishng the news said that he was "a huge Obama fan."
It has now been found that the National Examiner never really carried a story linking Obama and Styles. It is believed that somebody photoshopped the original cover of National Examiner and created a false cover.
A report in Pink News calling the hoax on the story noted that the images circulating across the internet featuring One Direction star Harry Styles in a story that link him with President Barack does not appear in the actual edition. The actual story carried the image of a different man, the report noted.
It is but true that the National Examiner did claim that Barack Obama hid his 'gay lifestyle' to be the president.The cover of the US supermarket tabloid also made the bizarre claim that Obama had an affair with another man.
It also said the 53-year-old's marriage to Michelle "is a sham" as she is a transgender.
at last. a headline i can trust! pic.twitter.com/gRhSH78dzD

— amara (@amaraconda) December 10, 2014
Styles was puzzled when he was quizzed about it at the BBC Music Awards. But after some explaining from the reporters, he told Entertainmentwise that he has had some "good ones" in his time and termed this gay rumour with the President "interesting."
One Direction's bandmate Liam Payne then cut in and made fun of Harry. "Wow, it's all getting a bit political! So, does that give you some power in the White House then?" quipped Liam, to which Harry said, "Yeah, maybe."
The boys then dropped the ball in Niall Horan's court. "I feel like Niall would be a bit jealous."
This is not the first time that President Obama and First lady Michelle Obama have been made the butt of insensitive LGBT jokes. Just two months before her death, back in July, Joan Rivers had called President Obama "gay" and First Lady Michelle Obama "transgender."
A CNN report chiding Rivers had said, "The comedian known for her lack of self-censoring recently officiated a same-sex wedding and was asked by a photographer if she believed the United States would ever see the first gay or female president. Her response was typical Rivers."
"We already have it with Obama, so let's just calm down," she said. "You know Michelle (Obama) is a trans." When asked to further explain Rivers said, "A transgender. We all know it."