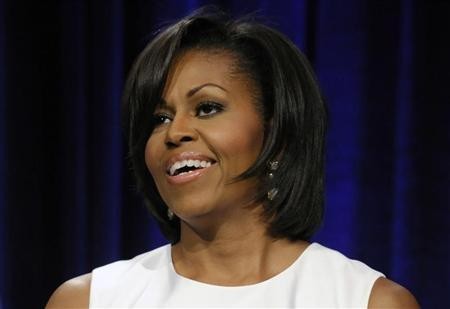 First Lady Michelle Obama turned 50 on Friday and celebrated her birthday with about 500 guests by dancing into the wee hours.
The beaming birthday girl wore a red jumpsuit that somewhat resembled her 2012 Inaugural gown. Guests who attended the bash told the media that Michelle was tireless.
"At 2 a.m., there were the President and First Lady on the dance floor with a circle around them," a guest told People. "It was Beyoncé and some of her dancers and the Obamas were more than keeping up. It looked like they got briefed on all the new moves. The First Lady danced like she was one of her daughters' generation."
In addition to the free-flowing champagne, Michelle kept the energy levels of her guests by maintaining a constant supply of roast beef sliders, mini crab cakes and fried oysters on toast rounds, People reported.
The media was not allowed to attend the party, but with guests gushing about the glitz and glamor of the event, some tax payers expressed concern on who footed the bill.
Appeasing their worries, the Ask Joe section on My News 4 reported that the Obamas picked up the tab for the event as it was a private function.
But the report pointed out that Michelle's extended stay in Hawaii, a birthday gift from husband, President Barack Obama, was footed by taxpayers.
"According to one white house reporter slash blogger, the travel and secret service costs for that trip are estimated by some reports to be as high as $200,000 and the white house admitted that taxpayers are footing the bill for that trip."
The report noted: "So the Obama's paid for the party. Taxpayers paid for a good chunk of her travel."