Last month, a report emerged stating Nokia's affiliate HMD Global Oy is working on five smartphones to be launched in 2017. Now, it has come to light that Finnish company has much bigger plans than anybody would have anticipated.
A PPT slide, understood to be of HMD Global's Malaysian distributor Avaxx, has surfaced online revealing the company's intentions to launch six to seven touchscreen smartphones and series feature-mobiles in 2017.
Also read: Samsung set to unveil foldable flagship Galaxy X to take on Apple iPhone 8 series
In the image (courtesy, Nokia Power User), we see a company representative showing a Star Wars themed slide titled-- "What to expect in 2017- The Empire Strikes Back" revealing HMD Global's big plans to launch Nokia phones throughout the year. Going by the numbers, the company has plans to launch at least one phone every two months. Ambitious as it may look, it's quite possible for HMD Global to bring the Nokia brand back to the limelight and take on emerging Chinese brands such as Xiaomi, Vivo, Oppo, Huawei, Lenovo (& Moto aka Motorola), which have wrest control over mid-range and entry-level segment, and the biggies-- Samsung and Apple in the high-end category.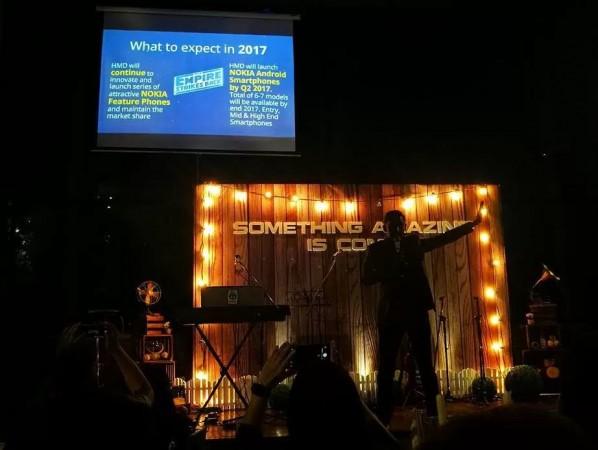 Word on the street is Nokia will have two Android flagship phones ranging in size from 5.0-inch to 5.5-inch with top-notch build quality, QHD (2560x1440p) display, powerful processor, long lasting battery and state-of-the-art Carl Zeiss camera hardware.
Read more: Nokia Android phone update: Flagship device tipped to boast Carl Zeiss camera with metal-clad body
On the other hand, Nokia plans to launch Android-powered mid-range phones internally known as D1C series with attractive hardware and competitive price-tag to match the rivals.
Read more: Android-powered Nokia D1C tipped to come in 2 versions; key specification leaked
Apart from these, Nokia is reportedly working on E1 and P series smartphones.
Read more: Nokia E1 images surface online
Nokia has confirmed its participation in the upcoming Mobile World Congress (MWC) 2017, Barcelona in late February. Rumour has it, the D1C series will make its debut during the meet.
Read: Nokia confirms participation in MWC 2017; Finnish company poised to return with a bang
Watch this space for latest news Nokia phones.
Also read: Android Nougat-powered Nokia Pixel makes a stop at Geekbench