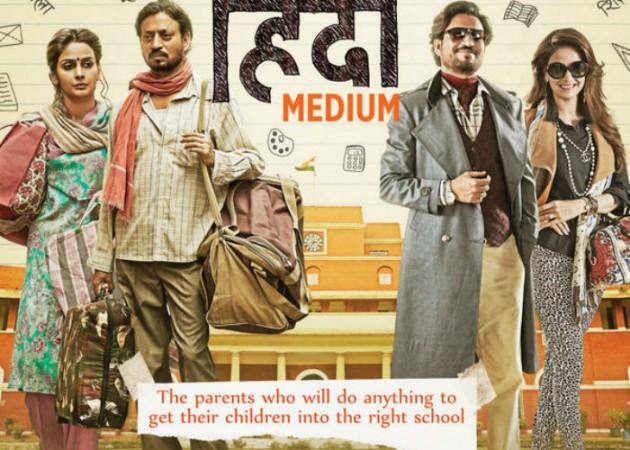 As I was coming to office today, I heard a popular RJ of an FM channel saying they have chosen the day to speak only in Hindi and not English to mark the release of Hindi Medium, a Bollywood film which depicts how obsessed Indians are with the language of English and no our own Rashtra Bhasha.
Noted actor Irrfan Khan, who is playing the role of a father who finds himself at the receiving ends of an English-based education system while trying to get education for his little daughter, also spoke to the channel on the issue.
Also read: Shashi Tharoor for PM in 2019? Only if he can take time out from fighting the British!
According to him, English has become a must identity for the Indians because of their obsession with things western. He felt the Britishers were not many in numbers, yet they could be able to rule India for over centuries. There was a tinge of self-criticism in Khan's voice. When asked by the RJ about the prevalence of Hindi literature to counter the effect of English, he said with a note of disappointment that Hindi literature did not take off after a point of time.
Bollywood often comes up with moves mocking English
This is not the first time that a Bollywood film has mocked the English factor as one of India's prime identity. A few years ago, veteran actor Sridevi was found trying hard to become English literate to make herself socially acceptable. Finally, when she made it across the table, it was a kind of liberation for her.
But as I was recalling Sridevi's English Vinglish as a close parallel to Hindi Medium, I could hear the RJ giggling in between while uttering shudh Hindi. Why was the suave English-educated woman doing so while giving Hindi a chance to resist the onslaught of English for just a day?
But why the double standard when we know we can't do without English?
Herein, lies the double standard of we Indians. Congress MP and former Union minister Shashi Tharoor has been doing a lot of campaigning nowadays about his book targeting the British misrule in India for two centuries.
Of course, Tharoor has his own political agenda to do it [he is trying to revive the Congress brand of nationalism in days when the BJP's cultural nationalism is sweeping the country] but even personally, shouldn't Tharoor be grateful to the British legacy in this country for his extra-ordinary control over the English language?
The man's writing impresses us all because he has mastered a foreign language so very well even though, as a mark of irony, he attacks the same country which had helped us equip ourselves with the most potent linguistic currency – English – for their imperial misrule.
English still shields Indians against competitions from strong rivals like China
Whether Bollywood mocks our obsession with English, there is doubt over the fact that it is India's strongest point. It is the English skills of Indians that still shield them from competition in IT and knowledge-based sectors with the Chinese and Mexicans.
In today's globalised world, the advantage of having a grip over English puts Indians, among other factors, among the most-sought after knowledge labourers. English certainly doesn't measure a person's intelligence but that doesn't mean to be English literate is a mark of disrespect to one's own roots.
Also, why only go for Hindi even if we want an alternative?
There is also another angle to the story. Even if Hindi is our national language, India is too diverse and divided linguistically. Hindi is not a universally accepted language in India and even English fares better on that count. Even if Hindi had a big literary legacy, it did not have made a difference. People like Tamilians and Bengalis have rich literary traditions but that doesn't make them less loyal towards English. Had there been no English, the nation-building process in India would have been far from over. For us Indians, English is still the most important language for our survival depends on it.
In Kissi Se Na Kehna, a yesteryear film, late thespian Utpal Dutt was seen telling actress Deepti Naval, his daughter-in-law in the film, that knowing English is not the ultimate thing in the world. He had said that countries like China or erstwhile Soviet Union did not use English but yet their progress was not stalled. In those days of the Cold War, a Left-minded actor like Dutt must have loved to utter that line but in the one-way highway of world economy today, can we really do away with English?
We are messing up English language with our mother-tongue sentiments
The problem is not with English but the way we are busy messing up the language with our sentiments, producing a hotchpotch as a result. We have grown our own culture of speaking excellent English but not knowing about writing it flawlessly.
Our Indianised English or "Indlish" as a noted journalist had called it is somewhere in between the spectrum of languages which suggests that in the moral tug-of-war, we have not learnt either properly. Going through the English skills of youngsters who have just come out of their education and seeking jobs, one gets an idea about the sorry picture which is emerging.
So, let English be there. We can still work out ways to serve ourselves by loving both the foreign (though English is hardly foreign to India any more) and the indigenous languages and mastering them. Till we arrive at that meeting points, the all-Hindi FM programmes will only make ourselves look fools before the world.