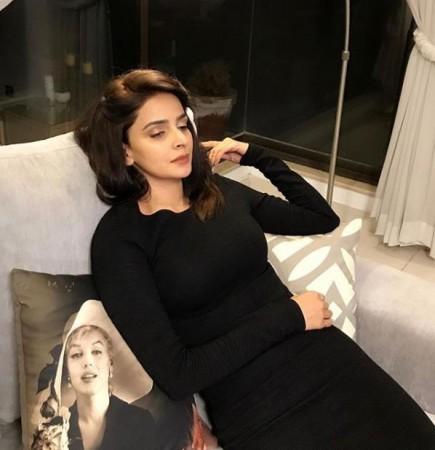 Pakistani actress Saba Qamar, who received accolades for her performance in the Bollywood film Hindi Medium, where she co-starred with Irrfan Khan, has opened her heart while talking about the discrimination she and the people of her country face at International airports for being Pakistani.
Pak anchor hosts bulletin with daughter on her lap to protest 8-year-old Zainab Ansari's brutal rape and murder
In a 49-second video that has gone viral now, a teary-eyed Saba is seen saying she faces a lot of humiliation while going through the process of security checking when the airport staff looks at her with suspicion.
Narrating an incident when she went to Tbilisi, the capital of Georgia, Saba said: "We boast about Pakistan. We say Pakistan is this and that. But when you go out of the country and the way we are checked, I can't tell you. I feel so humiliated the way I am frisked. I remember I want for a shoot in Tbilisi (Capital of Georgia) and my entire Indian crew was allowed to go. But I was stopped because of my Pakistani passport. I was investigated and they took my interview and then they let me go."
Adding to it the actress said: "That day I realised this is what our position is and this is where we stand."
Pakistan horror: After Zainab murder case, 5-year-old girl's presence of mind saves her from rapist
Not just Saba, even Shah Rukh Khan — being an Indian — faces discrimination at international airports.
For those who are not aware of who Saba is, she is one of the most popular and highest paid actresses in Pakistan with a massive fan-base. It was in 2015 that she made her film debut with Pakistani movie Manto. She has won several awards for her movies and is known for her roles in Pakistani TV shows Dastaan, Aina and Jinnah Ke Naam, among others.
Her Bollywood debut Hindi Medium dealt with an important yet sensitive subject — the education system in India.
In the film, Saba played the role of Irrfan's (Raj Batra) wife Mita, who is fashionable while Raj is a simple guy. Mita believes the English language is very important in today's life and hence wants her daughter to be admitted to one of the top schools in Delhi.
What follows is the problems the parents face from the money-oriented education system.