Ace Bollywood photographer Dabboo Ratnani finally launched his much-awaited year-end calendar on January 17. Shah Rukh Khan, Alia Bhatt, Priyanka Chopra, Aishwarya Rai Bachchan and Miss World Manushi Chhillar are among the 24 celebrities who featured on Dabboo Ratnani Calendar 2018.
Abhishek Bachchan unveiled the pictures at the launch event. Apart from Jaya Bachchan, the other three family members (Aishwarya, Abhishek and Amitabh Bachchan) featured on the calendar. Earlier, Big B was supposed to unveil the pictures, but the megastar couldn't make it to the event due to a shoulder injury. Thus, his son did the honours.
Stunning pictures have been captured through Dabboo's lens. SRK's killer look with smoky eyes, Manushi's Game of Thrones-themed photo and Sunny Leone's naughty maid picture are winning hearts.
All the actors and actresses charmed in their photos on Dabboo Ratnani Calendar 2018. The launch event was attended by many stars like Abhishek, Sunny Leone, Anupam Kher and several Bigg Boss 11 contestants, including Vikas Gupta and Hiten Tejwani.
Apart from Manushi, we saw Aamir Khan and Kajol featuring this year. The other actors have been starring on Dabboo's year-end calendars for quite some time.
While Varun Dhawan and Tiger Shroff flaunted their abs in the pictures, Kriti Sanon and Shraddha Kapoor raised the temperature, and Vidya Balan and Sonakshi Sinha showed why curly hairs are the best.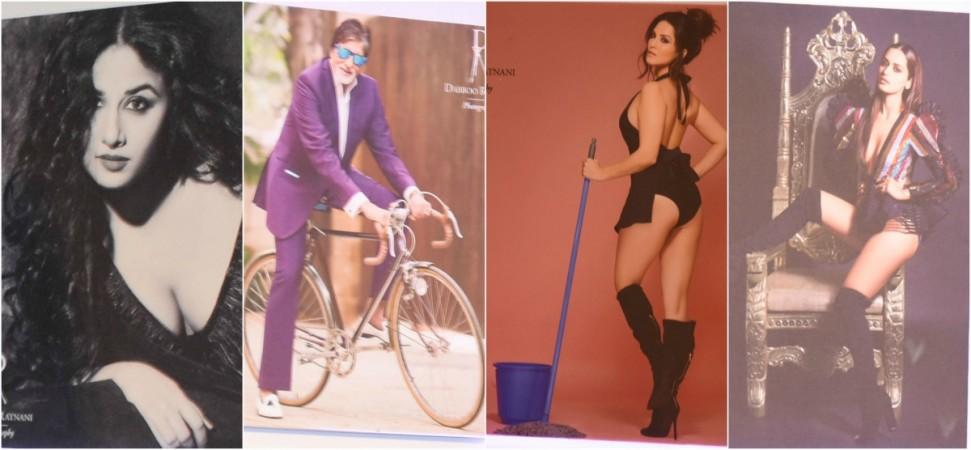 Update: Dabboo Ratnani's year end calendar has always been a delight. His 2018 calendar also has some amazing Bollywood celebs' pictures that have definitely won hearts. You will see new faces like of Aamir Khan, Manushi Chhillar and Kajol in his calendar. Last year, Disha Patani's photo broke the internet, but this time, the diva is not starring in Dabboo Ratnani 2018 calendar. The launch event witnessed stars like Abhishek Bachchan, Rekha, Manushi Chhillar and Bigg Boss 11 contestants Vikas Gupta and Hiten Tejwani.
Here is the list of 24 celebs who featured on the calendar:
| | | |
| --- | --- | --- |
| Abhishek Bachchan | Parineeti Chopra | Kajol |
| Hrithik Roshan | Sidharth Malhotra | Kriti Sanon |
| Priyanka Chopra | Sonakshi Sinha | Manushi Chhillar |
| Vidya Balan | Shraddha Kapoor | Akshay Kumar |
| Amitabh Bachchan | Farhan Akhtar | Varun Dhawan |
| Sanjay Dutt | Sunny Leone | Aamir Khan |
| Alia Bhatt | Shah Rukh Khan | Aishwarya Rai Bachchan |
| Tiger Shroff | Jacqueline Fernandez | Arjun Rampal |