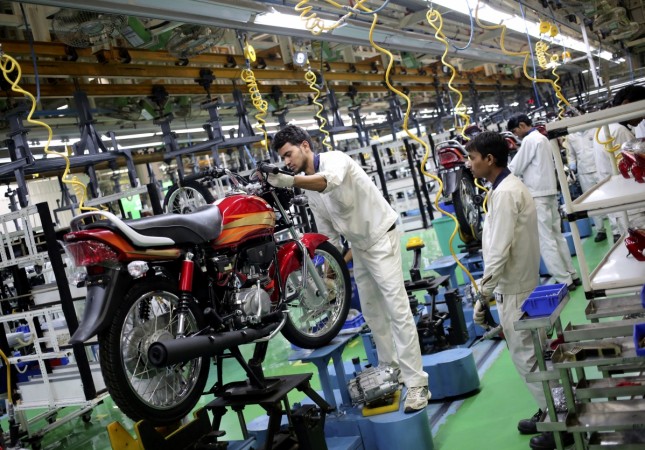 Hero Motocorp, which reached a milestone of 60 million vehicles in cumulative last fiscal since its inception in 1984, has seen its share price rise sharply in the past 12 months when compared to its listed peers, TVS Motor Co. and Bajaj Auto Ltd.
Shares of Hero Motocorp closed at Rs. 3,237.70 on Friday (July 15, 2016) at the Bombay Stock Exchange (BSE), translating into a gain of 22.715 percent over July 15, 2015 of Rs. 2,660.
In comparison, TVS Motor Co. delivered 14.29 percent based on its July 15, 2016 closing price of Rs. 306.60 and July 15, 2015 closing price of Rs. 268.25.
Bajaj Auto fared even lower, giving 6.15 percent return to investors, based on its closing prices of Rs. 2,688.40 (July 15, 2016) and Rs. 2,532.45 (July 15, 2015).
Hero Motocorp recently launched Spendor iSMART 110, its first, fully desgined and developed in-house two wheeler.
"The new iSmart 110 is another example of our efforts, featuring a BS IV compliant engine along with the intuitive, fuel-efficient i3S technology...This comes close on the heels of the successful launch of our first range of indigenously developed scooters last year," Pawan Munjal, chairman, MD & CEO, Hero MotoCorp Ltd., said in a statement on Thursday.
Hero Motocorp, which is also the world's largest two-wheeler maker, sold 5.49 lakh units last month, a marginal increase from 5.42 lakh vehicles sold in June 2015.
Its first quarter (April-June 2016) sales rose to 17.45 lakh units, up from 16.45 lakh two-wheelers the company sold in the corresponding period last year.
Hero Motocorp Ltd. was originally incorporated as Hero Honda Motors Ltd. a year after the entity signed a joint collaboration agreement with Japan's Honda Motor Company in 1983. The joint venture with Honda ended in 2011 when the Japanese partner's 26 percent stake was bought by the Indian promoters for Rs. 3,842 crore.
In line with its plans to focus on new-age vehicles, Hero Motocorp announced the phasing out of its scooter models Maestro, Impulse, Ignito and Passion XPro acquired under a licensing agreement from its former partner Honda, the Economic Times reported, citing Pawan Munjal.
The promoters hold 34.64 percent stake in Hero Motocorp, based on the filing to the BSE.