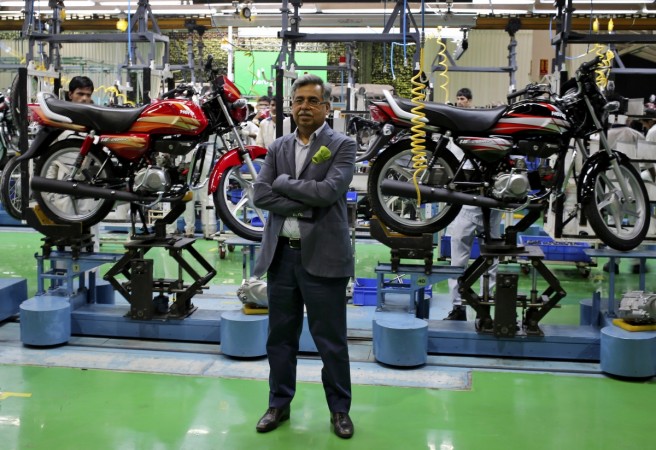 Hero Motocorp, the Delhi-based two-wheeler manufacturer, informed stock exchanges on Tuesday that it has reappointed Pawan Munjal as the company's head for five years.
Munjal, whose current term ends on Sept. 30, will be the company's chairman and managing director and CEO for a fresh five-year term beginning Oct. 1, 2016, the company said in a regulatory filing to the BSE.
Simultaneously, the company elevated Vikram Kasbekar, Head of Operations & Supply Chain, as member of Hero MotoCorp's board of directors.
The company also announced the appointment of Neerja Sharma as company secretary and chief compliance officer.
Share price of Hero Motocorp closed at Rs. 3,407.30, down 1.43 percent from its previous close.
The company reported a net profit of Rs. 883.10 crore on total revenues of Rs. 8,010.66 crore for the first quarter ended June 30, 2016, marking an increase of 18 percent and 7.7 percent, respectively, on a year-on-year basis.
"The first quarter of this fiscal carried forward the growth trajectory that we set for ourselves in the previous quarter. The sales growth is reflected in the positive financial results for the quarter, and has given us the momentum to carry forward as we prepare for the upcoming festive season.
"With the above-average monsoon so far and the implementation of the 7th Pay Commission recommendations, we remain cautiously optimistic about the remaining months of FY'17," the company said in a statement on Monday.
Hero Motocorp's net profit and revenues for the corresponding quarter ended June 2015 stood at Rs. 747.54 crore and Rs. 7,435.47 crore.
During the June 2016 quarter, Hero Motocorp sold 17.45 lakh two-wheelers as against 16.45 units sold in the year-ago period. The company said it marked the highest-ever quarterly sales for Hero MotoCorp.
In July, Hero Motocorp's two-wheeler sales stood at 5,32,113 units, up 9 percent from 4,87,580 two-wheelers sold in the corresponding month last year.
The company recently launched the all-new Splendor iSmart 110 – completely designed and developed in-house at the Hero Centre of Innovation and Technology (CIT) at Jaipur.