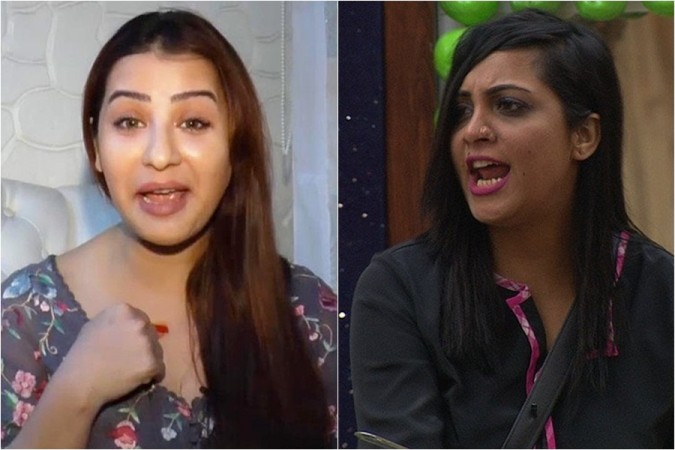 It's been about a month since Bigg Boss 11 went off the air yet the contestants are constantly in news.
Recently, Arshi Khan made a startling statement on Shilpa Shinde that took the internet by storm. When asked to comment on Shilpa and Vikas Gupta's equation and if they will ever marry, Arshi said they would never tie the knot.
She, however, went a little overboard by saying that Shilpa had once told her inside the Bigg Boss 11 house that she would never marry.
When SpotboyE asked Shilpa to respond to Arshi's statement, she rubbished having said that. The actress, however, admitted to having told Arshi that marriage was not in her mind at the moment. After winning Bigg Boss 11, Shilpa is currently busy choosing good work and enjoying her freedom.
Talking about why Arshi made such statement, Shilpa made a strong remark against Arshi. She said, "Arshi Khan is a big liar and we all know that. That's it."
Shilpa and Arshi had never got along on the reality show and were often on the loggerheads. Post Bigg Boss 11, the former Bhabi Ji Ghar Par Hai actress had also ditched Arshi's party.
When asked why she didn't attend Arshi's party, the BB11 winner told TOI, "There is no reason for not attending the party. In fact, I am not a party animal at all. My first party post-Bigg Boss was when Pawan Kumar simply dragged me to the party. I couldn't say no because I have known him for many years, since my first TV project, Bhabhi. So it was like a home party for me. Also, just because I have won Bigg Boss, I cannot throw attitude for no reason and have the starry nature. I am not like that. I haven't attended many parties in all these years. So that's why. I was out till late that day. So after coming back, I really didn't feel like going to the party and what's the point in doing a formality.
She further added, "There were some things that happened in the house that has been a bad patch but I don't want to sulk about it. I am genuinely not a party animal. Honestly speaking at the first go I even forgot that there was a party and I was out till late so when I came back and remembered about the party, it was already late and I didn't feel like going. That's all. There was nothing else about it."