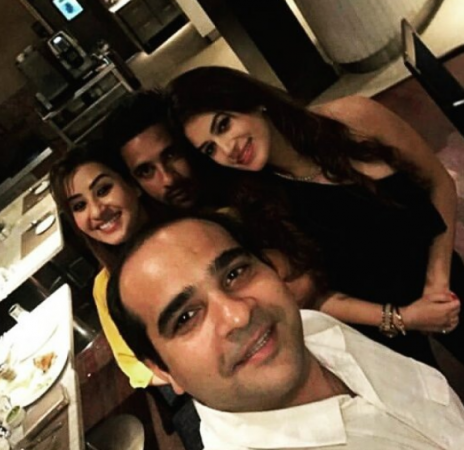 Bigg Boss 11 winner Shilpa Shinde who has managed to trend on social media and grab headlines for both right and wrong reasons is surely on cloud nine after coming out of the house. The love and appreciation she is getting from the fans is amazing.
Recently Shilpa was in news for missing Arshi Khan's party but just yesterday she was seen chilling and partying with Puneesh Sharma and Bandgi Kalra.
Bandgi posted a picture on Instagram. Have a look:
Shilpa when asked why she didn't attent Arshi's party, told TOI: "There is no reason for not attending the party. In fact, I am not a party animal at all. My first party post-Bigg Boss was when Pawan Kumar simply dragged me to the party. I couldn't say no because I have known him for many years, from my first project Bhabhi. So it was like a home party for me. Also, just because I have won Bigg Boss, I cannot throw attitude for no reason and have the starry nature. I am not like that. I haven't attended many parties in all these years. So that's why. I was out til late that day. So after coming back, I really didn't feel going to the party and what's the point in doing a formality.
She also told the leading daily: "There were some things that happened in the house that has been a bad patch but I don't want to sulk about it. I am genuinely not a party animal. Honestly speaking at the first go I even forgot that there was a party and I was out till late so when I came back and remembered about the party, it was already late and I didn't feel like going. That's all. There was nothing else about it."
Well, looks like the lady is having fun with her 'favourites' then!
Meanwhile, her brother Ashutosh is furious over something and he has a valid point. He took to Twitter and wrote: "Really sad to see such types of video captions, just to grab hit on video@next9news#OffScreenOfStars#A2ZGyan@BollywoodNow
Please refrain from doing such cheap tricks!
Change the caption immediately
This is one of the reason why @ShindeShilpaS has kept herself away from SM"
We understand Mr Shinde.