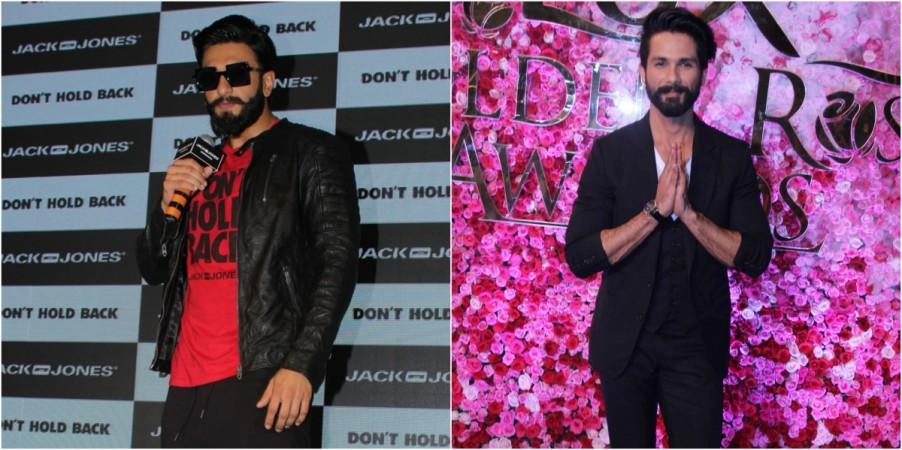 From the time Padmaavat went on the floors, rumours of rift between the two male leads – Ranveer Singh and Shahid Kapoor – has had been doing the rounds.
Although the two have never bad-mouthed each other, time and again, reports of Ranveer and Shahid rivalry have made headlines.
Earlier, reports stated that Shahid was unhappy with the trailer that focussed on Ranveer's character Alauddin Khilji that overshadowed his role of Maharawal Ratan Singh. There were reports that Shahid too, was eyeing for the role of Khilji, however, at the end, the role went to Singh. In a recent press conference, Shahid had commented that he would have played the role of Khilji differently, had he gotten a chance.
In fact, Shahid's comment on having felt like an "outsider" on the sets of Padmaavat further sparked rumours of his fallout with Ranveer.
On the other hand, when Ranveer was asked about Shahid's "outsider" remark, he told T2 Online: "To be honest, I did my best to sort of welcome (him). And whatever can be done to be a supportive co-actor, I did."
If the cold war rumours were not enough, a recent report said that Shahid was not willing to attend the success bash of Padmaavat so as to avoid face-off with Ranveer.
The period drama has received immense love from the audience and needless to say, the team is extremely overjoyed. It has, in fact, crossed Rs 200 crore mark at the Indian box office in less than two weeks of its run.
However, it seems just like the rumours of cold war between Ranveer and Shahid, there is no truth to the success bash as well.
Shobha Sant, CEO of Bhansali Productions, has put an end to all the speculations around Shahid, Ranveer, and the success party. She tweeted, "This is #fiction too. The producers, both @Viacom18Movies and #BhansaliProductions are busy trying to release #Padmaavat in the 3 states. No time to discuss #successparty... as yet."