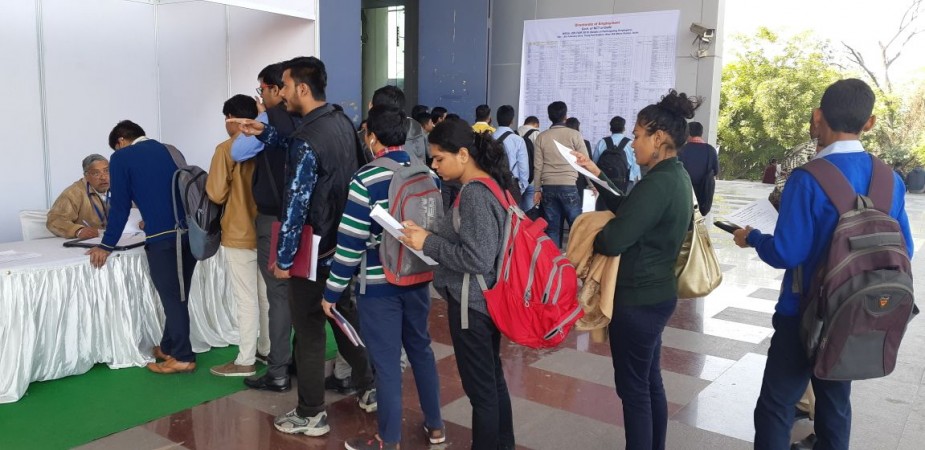 A two-day mega job fair organized by the Arvind Kejriwal government in Delhi is underway at Thyagraj Stadium. Nearly 100 companies are participating in the fair, offering over 15,000 job vacancies for aspiring candidates from all streams. The fair kick started on Thursday, February 15 and the timings according to the website are from 11 am to 5 pm.
Those who wish to participate in the two-day fair should first register themselves on Delhi Job fair's official website.
This is the third job fair organized by the state government in the capital.
Here's how job seekers should register for the fair:
Click on the link, www.jobfair.delhi.gov.in to visit the official website of the Delhi government's Job Fair 2018
You can even open the link to the Directorate of Employment, Delhi by visiting www.employment.delhigovt.nic.in and clicking on the link to 'Job Fair Portal'.
The link to Jobseekers Registration Form will be flashing at the homepage, click on it.
Enter basic details such as name, contact details, qualification, relevant experience, languages etc.
The department claims no responsibility for any error from the user's end. Make sure all details entered are accurate.
Pay attention to fields marked with a * (asterisk) as they are compulsory.
Next, click on the submit button on the screen. You will receive a Registration ID on the provided mobile number and your e-mail address. Preserve the generated ID, as it will be required while applying for the job.
Here's how you can apply for private sector vacancies:
Visit the Delhi Job Fair Portal, www.jobfair.delhi.gov.in
On clicking the option vacancies, you can find out the number of vacancies available in the Delhi Job Fair 2018. Tap the 'click here' option in the link, to apply for that particular job.
Guidelines provided by the employer should be followed and the job seeker should ensure that he/she is eligible for the post they are planning.
A registration ID will be generated after entering desired details, after which you will receive a One Time Password (OTP) on the registered mobile number. Enter the OTP and click on submit.
The employer screen the details of a job seeker during the fair.
A list of shortlisted candidates will be prepared by the employer at their discretion.
Meanwhile, there are mixed reactions on Twitter on the Delhi Job Fair. Here are few reactions:
@ArvindKejriwal my resume in 120chracters to apply on Delhi job fair. pls fwd. MCA. wasted time in building Aap, thereafter I'm closing this party who cheated. now a house wife kind of a politician n a Buddhist. u can retweet to ur job fair dept

— seena (@seenavinuraj) February 15, 2018
At time, When Ruling BJP Party is advising educated youth to start selling Pakodas, Delhi Govt. is organising Mega Job Fair.

Job fair in Delhi is witnessing huge footfalls.

Youth today believes in @ArvindKejriwal when it comes to education & employment. pic.twitter.com/P0qLO7pPNg

— Vikash Kumar Kedia (@VickyKedia) February 15, 2018
https://t.co/KuCpkIifFN: पकौड़े नहीं रोजगार
क्योंकि ये है "आप" की दिल्ली सरकार

Job Fair by AAP Delhi Govt
? More than 15,232 Jobs
? More than 89 Companies
? No Charges

Date - 15 & 16 Feb
Time - 11AM to 5PM

Tyagaraj stadium, Near INA station.

Register - …

— Abhishek Jha (@AbhiArchive) February 15, 2018