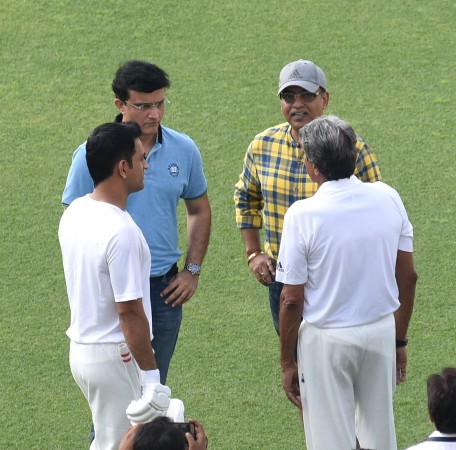 Former India captain Sourav Ganguly has joined the debate on MS Dhoni's Twenty20 International future. Just like his ex-teammate Virender Sehwag, Ganguly too has some advice for Dhoni.
In the recent past, some of the experts felt it is time for the 36-year-old Dhoni to bid adieu to T20Is. However, there are former cricketers who want the wicketkeeper-batsman to continue.
Also read: Kirmani blasts Agarkar over Dhoni comments
Ajit Agarkar, VVS Laxman and Aakash Chopra are against Dhoni from playing T20Is. However, captian Virat Kohli, head coach Ravi Shastri, legendary cricketers Sunil Gavaskar and Syed Kirmani did not agree with them. They firmly backed the World Cup winning skipper.
Now, Ganguly has said Dhoni needs to play T20Is "differently" to stay in the national team. He also wants Kohli and the team management to speak to Dhoni.
"His record in T20I is not that good compared to ODIs. Hope Kohli and team management will speak to him separately. He has immense ability. If he approaches T20Is differently, then he will be successful," Ganguly was quoted as saying by "PTI" on Sunday (November 12).
"I think he should keep playing One-day cricket, but he has to play differently in T20Is. He has to play T20Is freely. It depends on the selectors and how they would like to play him," he added.
Recently, Sehwag had said Dhoni needs to attack from ball one in the the shortest format of the game.
"Dhoni should realise his role in the team. He has to change the momentum early while chasing a strong total. He has to score from ball one and the team management should make him understand this point," Sehwag told "India TV" last week.
Shastri felt a lot of people were "jealous" of Dhoni. "Looks like there are a lot of jealous people around, who just want Dhoni to have a couple of bad days.... There are a few people who are waiting to see the end of MS Dhoni. But great players like him decide their own future," he had said.