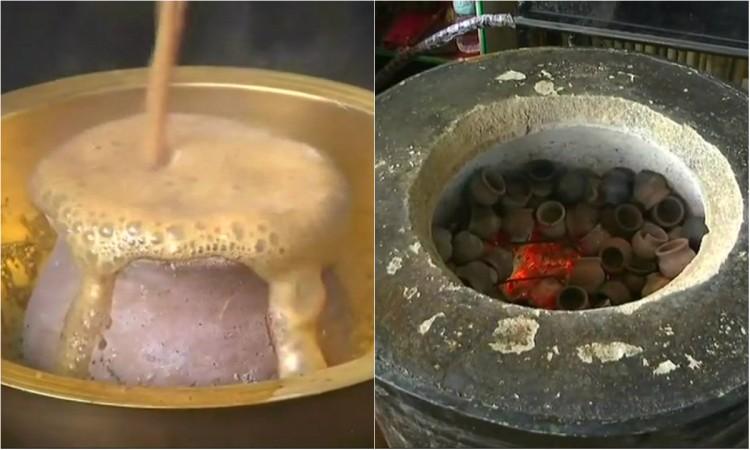 Indians can be easily called tea fanatic for their uncontrollable urge for 'chai pe charcha'. There is a lot of space for innovation as well over this hot beverage. And Tandoori Tea is the latest to join the list of chai variants.
A Pune based tea shop Chai La is serving an unconventional beverage that's become a hot topic on social media.
The shop owners described the tea-making technique and also how they got the idea to make the unique chai with a smoky flavour.
Pramod Bankar and Amol Rajdeo, the brains Tandoori tea, said that the idea for it came from the preparation of milk by their grandmothers in their village. Intrigued by it, they tried using the similar method to make tea.
Talking about the unique process, here's what Rajdeo had to say while speaking to ANI:
We have a unique tea-making process. We first roast kulhads (clay cups) in a pre-heated tandoor and pour semi-cooked tea into the extremely hot kulhads. We let it bubble over and once done, the chai gets a smoky flavour.

In this unique tea-making process, kulhads are roasted in a pre-heated tandoor. Then, semi-cooked tea is poured into the extremely hot kulhads to bubble over as it finishes cooking. The hot clay pot gives the tea a smoky flavour.
Meanwhile, the new kind of tea has sparked an online debate as some people took to Twitter to think to express their opinions over it.
Harish Meena, a member of parliament from Rajasthan, wrote on Twitter, "A great innovation....I would certainly like to taste it when ever in Pune."
Another Twitter user said, "I'm a tea lover and would love to visit this place," while another wrote, "Had tea here, it's wonderful smoky taste."
Some seemed not be convinced enough about the idea as one user said, "I am a big chai fan but but but... No thanks. I am happy sipping my cuppa chai."
A fourth person tweeted, "Drink few times, avg tea & unique idea but make no difference in terms of taste (sic)."
Check some of the Twitter reactions here.
This is a very normal practice in Bihar/Jharkhand..

— Sanjay Sinha (@SanjjaySinha) May 24, 2018
damn .. you may want open your shop in kerala also ..

— Shambhu Suresh (@suresh_shambhu) May 24, 2018
A great innovation....I would certainly like to taste it when ever in Pune.

— Harish Meena MP (@HC_meenaMP) May 24, 2018