Get ready to say goodbye to the mouthwatering morsels of chicken kabab, tandoori leg pieces or rotisserie chicken or even fresh shawarma chicken displays in front of restaurants if you live under the jurisdiction of the South Delhi Municipal Corporation (SDMC).
The BJP-ruled civic body is planning to ban all such displays outside restaurants that function under it.
A proposal in this regard was put forward by councillor Raj Dutt and seconded by councillor Nandini Sharma in the last session of the civic assembly and may receive a nod for framing of policy on January 3.
Once that is done, it will take a couple of months before this policy is fully formed in accordance with the Delhi Municipal Corporation Act.
What the policy means
The proposal by Dutt claims public display of food items raises issues of hygiene and also hurts the sentiments of a certain section of people. "If restaurant owners are found displaying non-vegetarian items in public, action against them should be taken as per the municipal law," it says.
"It has been observed that shops displaying non-veg outside their premises attracts dogs and raise hygiene issue. Besides, it is also about hurting the sentiments of people who are vegetarian," leader of the house Shikha Rai, who gave her nod to the proposal, was quoted as saying by Hindustan Times.
An SDMC official said that the ban would only be on food displayed outside. He added: "We have nothing against shops displaying the items inside their premises."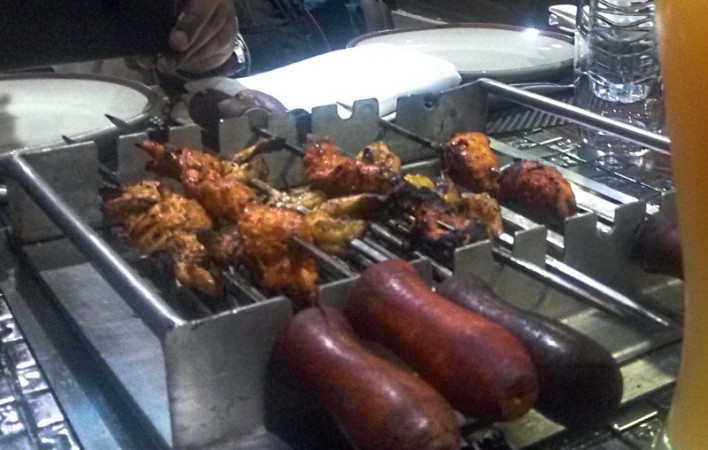 Hotels and eaters react
Delhi Hotel and Restaurant Owner's Association president Sandeep Khandelwal told International Business Times, India, that Indian eateries have always upgraded their infrastructure when it comes to food items like tandoori and shawarma.
"They initially used to sell it in the open, but as time passed and the issue of hygiene cropped up, they put up class cabinets to keep out dust, flies and other contaminants. Nevertheless, if the SDMC is taking a decision to ban such displays, then it must have some good logic to back it up," he said.
Delhi-based blogger Sakshi Agarwal, however, said that the ban might take away some of the charm out of eating out. She told IBTimes India: "I will be disappointed if I do not get to see how my shawarma is being made. I want the food made in front of me, and not behind closed doors, where I will be unsure of the hygiene or preparing conditions."