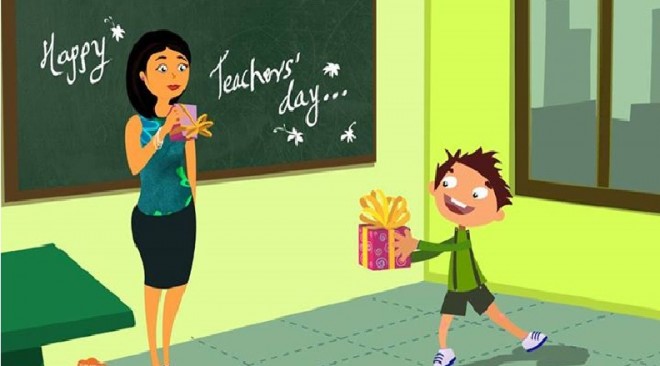 India is all set to celebrate Teachers' Day 2016 on Sept. 5 and any celebration looks incomplete without some relevant songs.
This day marks the birth anniversary of Dr. Sarvepalli Radhakrishnan and the entire nation remembers the contribution of teachers in the society. Along with the remembrance, Teachers' Day also sets a celebration mood in the educational institutions.
Almost all the schools, colleges and other educational establishments celebrate Teachers' Day with great zeal. Usually, classes are replaced by different activities like speeches, games, drama and other fun acts. Students also celebrate the day with songs related to teachers. Students also offer gifts to the teachers.
Bollywood has till date come up with a number of Hindi songs on teachers, reflecting their importance in the society and in the lives of students. One can get a host of Teachers' Day Hindi songs online which are available for download.
Here is a compilation of top 6 (new and old) Hindi Teachers' Day songs from Bollywood to celebrate the special student-teacher bonding.
"Sir Sir o Sir": The song video features Atul Agnihotri and Pooja Bhatt. Naseeruddin Shah is seen as a teacher and the two stars express their love for him in this melodious old track.
"Masti Ki Pathsala": This is perhaps the most fun-filled song that can be played on the occasion of Teachers' Day. It is from the movie "Rang De Basanti."
"Kholo Kholo": From the movie "Taare Zameen Par," this is a nice track that motivates students to follow their dreams and identify their skills.
"Aye Khuda": It is from the movie "Paathsala." Featuring Shahid Kapoor and Ayesha Takia, it is also a beautiful song from a film based on a teacher's life.
"Masterji Ki Aagayi Chitthi": It is an old song with some funny lyrics. The video shows some school students singing as they received a letter from the teacher.
"Tum Asha Vishwas Hamare": Sung by legendary Lata Mangeshkar, this is a melodious song that reflects the importance a teacher holds in the life of a student.