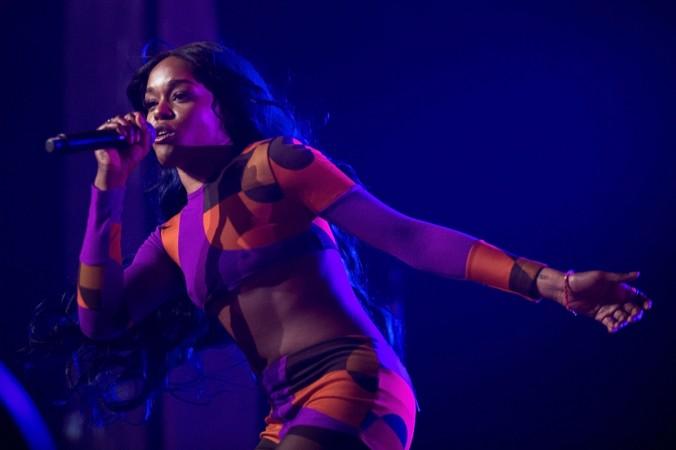 Azealia Banks took to Instagram to claim that was drugged and sexually assaulted over the weekend. In a since deleted Instagram story, the 26-year-old wrote, "Lowkey just got raped. I feel like dirt."
Following the post, she shared a series of voice notes on the app to share her thoughts with her followers. The rapper was heard sobbing while expressing her thoughts.
"I just feel so dirty and stupid right now, you know? We were just hanging out and one thing led to another. I just feel really dumb, because it was partially my fault… I'm just like sitting here like feeling f**king low and sh*t… I just want to f**king disappear right now," she said, Page Six notes.
"You don't really realize it like this rape sh*t. Men can just prey on you and f**king like badger you, force you to say yes… to the point where you feel like you gave consent but you didn't give sh*t. You never wanted to do sh*t… someone really just got the f**king best of me," she added.
Banks also alleged that her drink was spiked and it felt like someone was pinning down needles through her throat. "What is even in a roofie? I've never felt that type of intoxication in my life. I woke up my throat was in pins and needles. It's under control now my brothers and friends are here. I'm going to be fine don't panic guys. I love you. I def got drugged in my drink but I'm waking up again," she said.
Soon after she expressed her feelings, she deleted the posts. However, a fan managed to record the posts and has shared it on YouTube.
The New York-based rapper shot to fame in 2012 following the hit of 212. But her reputation was blotted after she got into Twitter fights with other artists. Her most noted Twitter battle was went she racially insulted former One Direction band member Zayn Malik.
Other incidents include when she publicly supported Donald Trump around the 2016 presidential election and mocked Hillary Clinton supporters Katy Perry and Lady Gaga after Clinton lost.
Apart from the online drama, she was in the news for her violent spat with a club bouncer in Los Angeles and an ugly spat with Russell Crowe at a party in 2015. The spat with the actor took place at a party he was hosting. She claimed Crowe choked her, spat on her and made a racial slur as he threw her out of his Beverly Hills hotel suite.
She landed a million-dollar record deal with E1 Entertainment earlier this year.