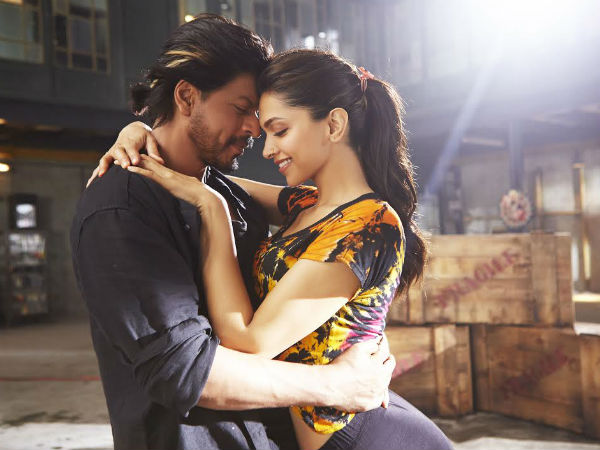 Farah Khan's film, "Happy New Year" featuring Shah Rukh Khan and Deepika Padukone in the lead roles is rocking at Indian box office, collecting more than ₹100 crore in just three days but it will face a big challenge when Brad Pitt's World War II drama, "Fury" is released in India this Friday, 31 October.
Interestingly, the Hindi version of "Fury" is titled "Fauji," which has connection with Shah Rukh Khan, creating speculation if the distributors of "Fury" are trying to cash in on King Khan's popularity.
Call it a coincidence but the fact is "Fauji" (meaning "Soldier") happened to be the title of a 1989 TV series that shaped Shah Rukh Khan as an actor. The TV series produced by New Film Addicts Pvt. Ltd and directed by Colonel Raj Kapoor was about training of an Indian Army commando regiment and King Khan earned fame from it.
"Fury" starring Brad Pitt, Shia LaBeouf, Logan Lerman, Michael Pena, Jon Bernthal, Jason Isaacs and Scott Eastwood was released worldwide on 17 October and was supposed to hit Indian theatres on 23 October but was postponed by a week to 31 October, to avoid a direct clash with "Happy New Year." However, clash between the titans at the box office is inevitable and it's going to happen this week.
But why were the distributors of "Fury" not willing to take on Shah Rukh Khan's film this Diwali?
Unavailability of theatres could be the reason for "Fury" distributors to avoid a clash with "Happy New Year", as most theatre owners would prefer to screen King Khan's movie, but it would also not make much sense to release a film bearing a title that people may identify with Shah Rukh Khan.
The fact is people, who are familiar to Indian TV serials in the 1980s, may still recollect Shah Rukh Khan's television series on the mention of "Fauji." Some may even think that the distributors of Brad Pitt starrer – "Fury" – are trying to cash in on the popularity of King Khan, anticipating the success of "Happy New Year" and to attract the Indian audience.
Whatever may be the reason for naming dubbed version of "Fury" as "Fauji," Deepak Sharma, COO of PVR Pictures that is distributing the film in India, told Mail Online that the title is apt for a war film.
"Indian audiences have a liking for war films due to our own trysts with wars and battles. Brad Pitt epitomises the essence of an army man and hence we have decided to release the dubbed version of Fury as Fauji. (Due to the title) the film's connect will be phenomenal," Sharma told the website.
Well, the clash between "Happy New Year" and "Fury" at the box office will be interesting for more reason than one.
"Happy New Year" stars Shah Rukh Khan, who is one of the biggest stars in Bollywood, and is breaking records at Indian box office. It broke two records of Aamir Khan's "Dhoom 3" as the biggest opener and the fastest film to cross ₹100-crore (approximately $16.3 million) mark. Trade analysts Taran Adarsh tweeted that the first weekend collection of "Happy New Year" stands at ₹108.86 crore (approximately $17.6 million).
On the other hand, "Fury" stars Brad Pitt, one of the biggest actors in Hollywood today. Like "Happy new Year," it is rocking the U.S. and Canada box office, collecting about $23.5 million in its first weekend to take the No.1 spot from "Gone Girl," which earned $17.8 million in its third weekend, according to data tracking firm Rentrak. Box Office Mojo reported that the domestic box office collection of "Fury" till 26 October was about $46 million, making it one of the biggest openers of all time (not accounting for inflation) for a World War II movie in the U.S.
David Ayer directed "Fury" was made on an estimate budget of $68 million, "Fury," and features Brad Pitt, Shia LaBeouf, Logan Lerman, Michael Pena, Jon Bernthal, Jason Isaacs and Scott Eastwood in the lead roles. Set during the World War II in 1945, the film is about U.S. Army Staff Sergeant, Don "Wardaddy" Collier (Brad Pitt), who commands a tank named Fury. As the allies make their push into Nazi Germany, all the tanks of the U.S. were destroyed except Fury, following an encounter with a German Tiger I. Wardaddy and his men – Boyd "Bible" Swan (Shia LaBeouf), Grady "Coon-Ass" Travis (Jon Bernthal), Trini "Gordo" Garcia (Michael Pena), and Norman Ellison (Logan Lerman) - decided to stay back and plan an ambush. However, all of them died except Norman, who hid in the destroyed Fury.
[READ: 'Happy New Year' Sets 10 New Collection Records at Box Office]
[Box Office Collection: 'Happy New Year' (HNY) Affects 'Bang Bang' and 'Haider' Figures]