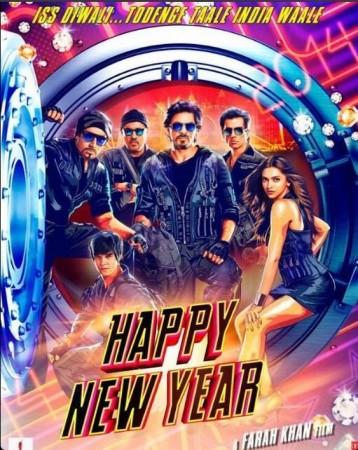 Shah Rukh Khan's movie "Happy New Year" is all set to smash another record to become the fastest ₹100 crore grosser Bollywood film. In just two days, the film has earned whopping ₹80 crore from just domestic box office and will cross the ₹100 crore mark in India by Sunday afternoon.
After a smashing opening day, the film witnessed 20 to 25 percent drop in its collection on second day, but it was expected. The film was released on 24 October had a grand opening due to Diwali holidays across the country.
The drop on second day was expected due to Bhai Dooj festival at several places. Usually, the film would have witnessed a huge drop on Saturday, but since it was a holiday and the festival the maintain held it well.
On second day, the film earned approximately ₹38 crore taking its overall total to ₹82 crore. By Sunday afternoon it would cross the ₹100 crore mark and become the fastest film to reach the century club, pushing "Dhoom 3" behind.
Meanwhile, the film had a rocking opening in overseas market as well. From just opening day the film managed to earn ₹4.93 crore from only five circuits.
The film had a record-breaking opening at the US-Canada box office. It earned ₹2.23 crore from foremost day run.
From the UK-Ireland box office, the film earned ₹1.93 crore, Australia ₹60 lakh, New Zealand ₹10 lakh and Malaysia ₹7 lakh.
The film is set to open with a bang at the UAE-GCC box office as Shah Rukh has huge fan-following the Gulf region.
The production house in a statement said the film had a record-breaking opening at the box office in India.
"Red Chillies Entertainments (RCE) Pvt Ltd announced today (Saturday) that their latest release, Happy New Year had a record breaking opening in the Box Office in India. It has collected Rs. 44.97 Crs on the opening day. With 42.62 Crs in Hindi, 1.43 Crs in Telugu dub and 0.92 Crs in Tamil dub, HNY has become the highest opening day ranker in Indian films so far," according to a statement.
Venky Mysore, CEO of Red Chillies, also commented on the box office performance of the film, saying that they are very happy with audience reaction.
"We are delighted that the audience across India has responded brilliantly and shown their support for a film that has been produced with a lot of passion and love," Mysore said.
Gaurav Verma, chief revenue officer at RCE, said that Yash Raj Films' distribution strategy was excellent.
"The partnership with YRF in developing our distribution strategy has been excellent and has contributed to the record-breaking opening," Verma said.
[Read: 'Happy New Year' Collection in US Disappointing: SRK Losing Charm Abroad for His Predictable Movies]