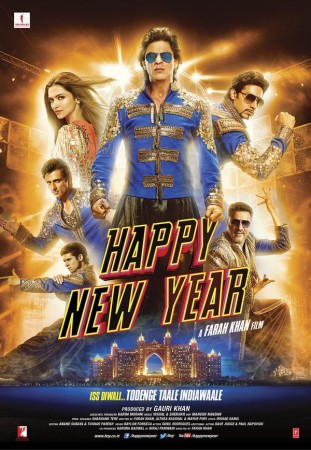 Read IBTimes India 'Happy New Year' Review
Shah Rukh Khan's mega budget movie "Happy New Year" is an entertaining film, but has too many songs, which play spoilsport, according to critics.
The film has action, drama and romance but the heist drama has no real story. Critics say that "Happy New Year" looks like a dance competition more than a film. Overall the film has received mixed reviews from critics.
"Happy New Year" is Farah Khan's directorial film and features SRK, Deepika Padukone, Abhishek Bachchan, Boman Irani, Sonu Sood and Vivaan Shah in the key roles. The lead casts have impressed critics with their performance.
Read the complete reviews below:
Bollywood Hungama in their review said: "All in all, HAPPY NEW YEAR is definitely a smash hit film, which has blockbuster written all over it. The film will set new records in the days to come. Go for it!"
Mohar Basu of Koimoi.com said: "Happy New Year is two distinct films rolled in one. While the first hour is breezy, fun and pretty watchable, the second hour is a convoluted mess with a heist angle that doesn't work, a romantic track that seems forced, the vivaciousness lacking from the camaraderie of the characters and the sappyness of a dukhbhari daastan of a backstory.
"It is a half baked film that uses all the regular formulaic heist tools and naturally offers nothing unseen or unexpected. The predictability of the climax was the most fatal blow for the film. It isn't unwatchable but horridly disappointing. Farah Khan has better mettle I believe and her funda of keeping it simple, garbed in floss doesn't work this time."
Sneha May Francis of Emirates 24/7 said: "If you can digest her trademark Bollywood kitsch of song and dance, and obsession for SRK, then this one's for you.
"Armed with no real story, an innumerable dialogues and scenes borrowed from SRK's earlier films, 'Happy New Year's exposes a laid-back movie-making strategy. And, while it's not trying to impress SRK, or record his earlier triumphs, it's trying to look into a dance contest, that's more about fancy dress than dance, and a robbery that unfolds fairly effortlessly."
Manjusha Radhakrishnan of Gulf News said: "It's a heist thriller mixed with enough dancing to make your head spin.
"Sometimes, you wish the makers had invested more energy into making the heist more exciting instead of justifying their intent and rolling out conduct certificates. Instead, the camera lovingly grazes Khan's eight-pack abs and is a glorious tribute to Khan's studied histrionics.
"Watch this if you love Khan and Dubai, and are good with suspending belief for over three hours."
Kamaal Rashid Khan has given one star to the film. Check out his review in the video below.