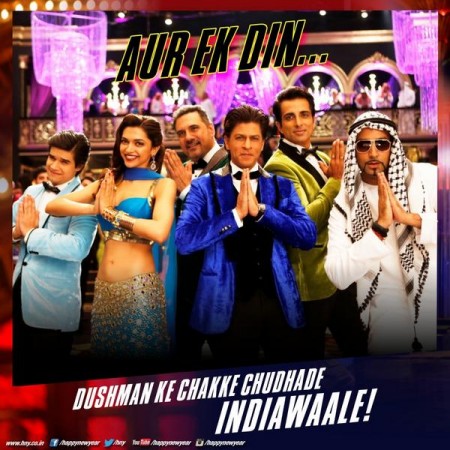 IBTimes India Rating: 3.5
"Happy New Year" fulfills its promise – delivers an entertaining feat from start to finish. Although predictable in parts, this Farah Khan directorial will for sure steal hearts and earn a million smiles.
The story is about Charlie, aka Chandramohan Sharma (Shah Rukh Khan), who sets out on a mission to steal "a handful of diamonds" from the menacing business tycoon Charan Grover (Jackie Shroff). Grover set Charlie's father Manohar Sharma (Anupam Kher) up many years ago and landed him in jail for all the wrong reasons.
To pull off the heist, he sets out to collect members with quirky skill sets for his team. Nandu Bhide (Abhishek Bachchan) throws up left, right and centre, Jag aka Jagmohan Prakash (Sonu Sood) is a bomb expert who's also hard of hearing, Temhton Irani aka Tammy (Boman Irani) is a safe-cracker and Rohan Singh (Vivaan Shah), the geeky hacker.
Now, for these men to abscond with Grover's priceless diamonds they would have to participate in the World Dance Championship. This is where Mohini Joshi (Deepika Padukone) steps in. With her "movement of the booty" (as Charlie observes), the leggy lass manages to teach the team to at least move their limbs in tandem.
The robbery, which takes place in The Atlantis, Dubai (the same venue where the WDC finals are to be held) might come across as a mash-up of every heist film you've ever watched, but Farah keeps it simple and never goes overboard with the sequence.
Shah Rukh mesmerises with his charm, Deepika scorches the screen with her moves, Abhishek hams it well as the nutjob from the chawl (slum), Sonu puts his best ab forward as he beats goons to pulp, Boman plays the perfect Parsi with a great comic timing and Vivaan blends in well as the nerdy element.
While the high point of the film is definitely its stellar cast, the music (by Vishal-Shekhar) misses the mark somewhere. The "Indiawaale" stays with you much after you've left the theatres, but dies down too soon.
The grand, colourful canvas and wide-angle shots work in the film's favour as the idea is to offer Bollywood lovers a perfect masala movie. The humour is borderline slapstick, but will have you in splits.
The director for sure knows the craft of churning out a blockbuster well, and has easily delivered this year's best entertainer. Wait till the end credits for Shah Rukh's bundle of joy - AbRam Khan.