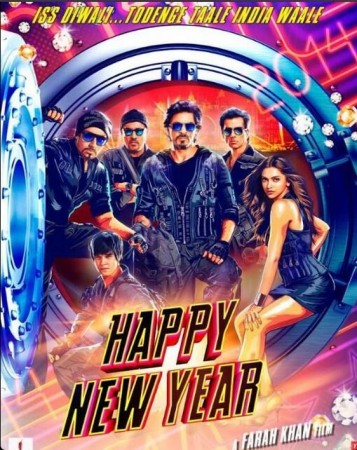 Shah Rukh Khan and Deepika Padukone's "Happy New Year" (HNY) may not have shattered the records of Salman Khan's "Kick" in India, but at the worldwide box office, SRK's film fetched more than the latter.
Also, "HNY" has beaten the records of Aamir Khan's "3 Idiots" at the domestic box office after its fourth weekend. It is now the fifth highest grosser Bollywood film ever.
Domestic Box Office
The Farah Khan directorial has minted around ₹1 crore in its fourth weekend, taking its overall total to ₹202.80 crore. The film has surpassed the lifetime domestic earning of Aamir "3 Idiots".
"3 Idiots" was the first film to earn a record breaking ₹200 crore from the Indian markets and it was the only film in the coveted double century club for three years. Only last year the Aamir starrer's record was broken by other films.
This year, "HNY" became the second film to beat the lifetime total of "3 Idiots". The first film was Salman's "Kick".
Worldwide Box Office
At the worldwide box office, the film's gross earnings stands at ₹380 crore. "HNY" has dethroned "Kick" from the fourth position at the worldwide box office list.
The gross worldwide total of "HNY" is more than "Kick" (₹377 crore), according to Koimoi.com
"HNY" domestic net income is ₹202.80 crore, gross earning is ₹289 crore and overseas income is ₹90 crore. The film is very close to surpass ₹400 crore gross income mark, but it remains to be seen whether it touches the mark or not.
Meanwhile, the film added another feather in the cap after its script made an entry to the Oscars Library.
Library of the Academy of Motion Picture Arts & Sciences will add "HNY"s screenplay, which will be accessible to students, filmmakers, writers, actors and others from the field of cinema, for the purpose of research, according to a press release.