A recent study by Indian Institute of Science (IIS) Bangalore, Indian Institute of Technology (IIT) Guwahati and IIT Mandi in collaboration with the climate change cells' of several Himalayan states has ranked Jammu and Kashmir at No. 3 in terms of vulnerability to climate change.
During the last 10-15 years, thousands of forest trees have been axed in Jammu and Kashmir to pave way for several developmental projects. Even thousands of fully grown apple orchards have been chopped off for the construction of roads. Moreover, thousands of hectares of forest and agricultural land have been transferred by the government to private and public sector undertakings (PSUs) for the construction of dams, tunnels, roads, highways and hydropower projects.
Every year thousands of forest trees are axed in Jammu and Kashmir under the garb of "development". If blatant axing of forests and fruit trees continues, in the near future the state will face a severe environmental disaster. Ironically, permission for the axing of forests is given by the government through its Forest Advisory Committee (FAC) which is constituted under Jammu and Kashmir Forest Conservation Act, 1997.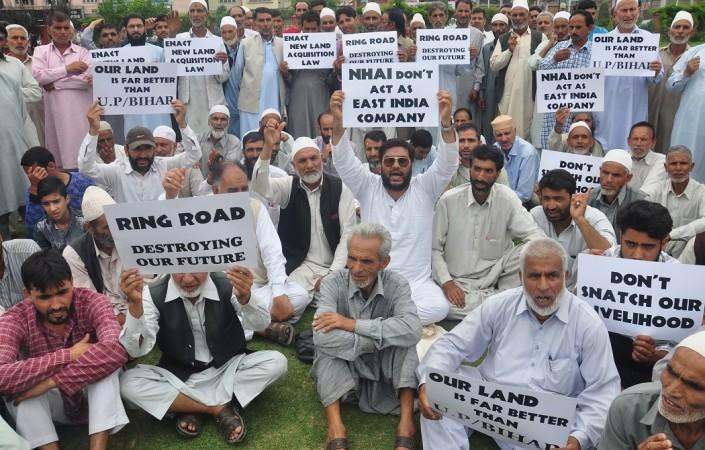 Forest Advisory Committee's role
The Forest Advisory Committee (FAC) in Jammu and Kashmir is empowered to give permission for transfer of forest land plus axing of trees during execution of developmental projects in demarcated forest areas. FAC is headed by the state Chief Secretary. Several Administrative Secretaries, Principal Chief Conservator of Forest (PCCF), Director Environment, Ecology and Remote Sensing, Chief Wildlife Warden, Director Social Forestry and few environmentalists are also the members of FAC. There are many special invitees and co-opted members as well, like senior engineers, forest and wildlife officers and technocrats.
In a majority of the cases, Forest Advisory Committee gives clearance to the proposed projects. After going through last 10 years FAC's official records, at an average 10 to 15 hectares of forest land has been transferred to construction companies during each such meeting. Around three to four FAC meetings are held annually and one can imagine how much forest land has been transferred from 1997 onwards for the construction of hydropower projects, dams, highways, railways and transmission lines.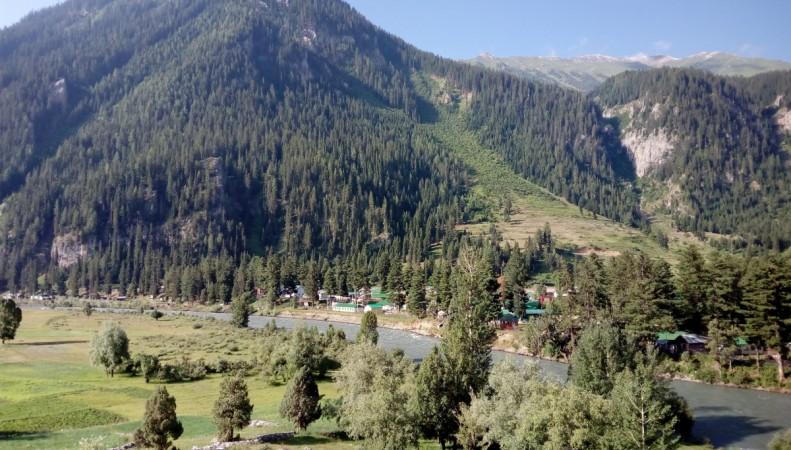 In addition to it, different varieties of trees like kail, deodar, cheer, and fir have also been axed during execution of so-called developmental projects. During FAC meetings, the forest and wildlife officers plus environmentalists do speak in favour of not going ahead with the axing of trees or transfer of forest land. But who cares? These officers have no say before high-profile bureaucrats who are executing orders on behalf of their political bosses. Most of the Forest Advisory Committee meetings do not last for more than an hour. One can imagine the kind of deliberations held during these meetings that last for an hour or more.
Destruction of agricultural land
Private and government-owned infrastructure companies are causing disasters across the state under the garb of so-called development. The total area of Jammu and Kashmir is 2,22,236 sq km. Approximately 30 percent of the land is cultivable and the rest is mountainous which is either covered with thick conifer trees or is barren/un-irrigated (in Ladakh area).
In Jammu division, most of the agricultural activities take place in four districts of Jammu, Kathua, Samba and Udhampur. Rest of the districts like Doda, Kishtwar, Poonch, Rajouri, Reasi and Ramban are hilly and only limited agricultural activities take place in these districts.
Similarly, in Kashmir valley, we can see agriculture fields and apple orchards in the plains of south, central and north Kashmir districts. All the south Kashmir districts Kulgam, Shopian, Anantnag and Pulwama are fertile and are known for its apple orchards. Similarly, central Kashmir's Budgam district is famous for paddy, vegetables, almonds, plum and pear (Naakh variety).
Srinagar district is mostly urban and Ganderbal has a lot of cherry and grape orchards. North Kashmir districts of Baramulla, Bandipora and Kupwara are known for apple, walnuts, lotus stems and fisheries. Due to limited agriculture landholding in Kashmir valley the apple orchards, paddy fields and water-bodies are shrinking day by day. The massive urbanisation, population growth, and the construction of new roads, highways and railways have squeezed the state, particularly the valley of Kashmir.
In the mid-1990s work on Qazigund–Srinagar-Baramulla railway project was taken up. It was welcomed by the people during that time, but when the earth filling was required for creating elevated railway tracks our Karewas became the first victims of development post-1990.
The Karewas which are the plateau-like sedimented terraces are mostly found in central Kashmir's Budgam district were bulldozed and paddy land / apple orchards from South to North Kashmir was filled and elevated to construct the rail line. The project engineers could have explored other options like the construction of rail line on pillars in the same way as it was done in case of Delhi Metro. We could have preserved a lot of agricultural land. Hundreds of hectares of almond, plum, apple and pear orchards located on these Karewas were destroyed.
Only a few years back a private power transmission company M/S Sterlite Grid axed more than 60,000 trees in J&K to pave way for Jallandhar–Samba–Amargrah 440 KV (Double Circuit) transmission line. Out of 60,000 trees, 40,000 were axed in Forests of Pir Panjaal mountains plus 20,000 apple and walnut trees were also uprooted. The farmers whose apple and walnut trees were axed are still agitating against the government and private transmission company as majority of them are yet to be fairly compensated. Some of the aggrieved orchardists have now filed a petition before J&K High Court.
Challenges for land deficit
Jammu & Kashmir is not only losing forest land but even our agricultural land is being forcibly acquired for construction of new highways. Due to 84-year-old obsolete land acquisition law in state and low stamp duty rates, farmers are not entitled to better compensation of their land as per the market value.
On the other hand, affected farmers in other states of India get better compensation of their land during acquisition process as the Govt of India during UPA –II enacted Right to Fair Compensation & Transparency in Land Acquisition, Rehabilitation and Resettlement Act (RFCTLARR-2013). RFCTLARR Act 2013 is not applicable in J&K due to constitutional reasons. The state government is also not enacting a new land acquisition law on the pattern of RFCTLARR. I have been continuously highlighting this issue, but there is no response from the government.
In June 2018, Prime Minister Narendra Modi inaugurated the semi-ring road project in Kashmir. The 62-km highway in the Kashmir valley will connect Pulwama in South Kashmir with Ganderbal in Northern part of central Kashmir. This highway will also ease the movement of army vehicles heading towards North Kashmir, Kagril and Ladakh areas. The highway passes through Budgam and some parts of outer Srinagar as well. More than 1,000 acres of agricultural land has been acquired by National Highway Authority of India (NHAI). In Budgam district alone 600 acres of agriculture land has been forcibly acquired. More than 10,000 fully-grown apple, walnut, plum and other fruit trees would be axed in the upcoming months when the work on this highway will be taken up.
Under the RFCTLARR Act 2013 affected farmers have to be paid four times the circle (stamp rate) of land during acquisition plus rehabilitation and resettlement of affected families. Due to non-applicability of RFCTLARR law in J&K, NHAI is paying farmers of Jammu & Kashmir mere "stamp value" of the land which much less than the actual market value of the land plus 15 % Solatium (Jabirana). Affected farmers are protesting off and on against the acquisition of their land. They are demanding enactment of new land acquisition act in Jammu & Kashmir but the government is not ready to listen to them.
In Jammu district stamp value of land in some villages like Malikpura in RS Pura, Kangrail in Bhalwal is much less than the actual market rate. In villages of Wathoora, Buchroo, Lalgam and Dharmuna of Budgam district, the stamp duty rate is 3 to 4 times less than the local market rate. We are not only losing our fertile land and environment but in return we are also denied fair compensation by authorities. Jammu & Kashmir is a land deficit state and if haphazard and forcible land acquisition process and the axing of trees continue, we will have nothing left for future generations. There is an urgent need to put a moratorium on the mega developmental projects, which is the only way out to safeguard our natural resources.
Raja Muzaffar Bhat is Srinagar-based activist and writer. He is also an Acumen India fellow from 2017 cohort. He can be mailed at bhatrajamuzaffar@gmail.com