Spacesuit testers — analogue astronauts — are reported to have successfully trialled and tested a device that could help future Mars explorers to find water on the red planet. The device, if it works as its makers ScanMars claim, will point out exactly where Mars explorers will have to dig to find water.
The experiments and tests were conducted in one of the most Mars-like environment on Earth today- Dhofar in Oman. The tests were carried out as part of the AMADEE-18 analogue mission held earlier this year. Results of the tests are to published later this year in Berlin, at the European Planetary Science Congress (EPSC), notes a report by the Europlanet Society. The device itself resembles a handheld radar
Developed Italian scientists, the ScanMars ground penetrating radar looks quite similar to a prospector's metal detector, notes the report. It has a pack of containing all the tech that is to be dragged along the ground, this contraption is attached to one end of a pole. ScanMars reads the subsurface, just below the ground through radar. It beams out radio wave impulses into the ground and reads the reflected waves. Places with varied geological makeups act and react in different ways to the sound pulses, enabling users to piece together a detailed image of subsoil structures and boundaries using the reflected impulses.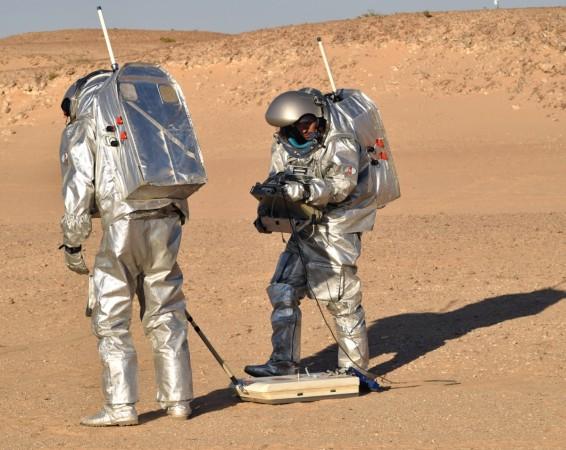 Analogue astronauts tested the ScanMars in four regions in Dhofar with different geological characteristics, notes the report. Over the course of the experiment, testers collected about 70,0000 radar echoes covering an area of over 1.4 kilometres and a depth of up to 5 metres.
"The innovative element of ScanMars with respect to common radar fieldwork is that the data was acquired by the analogue astronauts and not the scientists," said Dr Frigeri. "This means that the astronauts' training has become a key part of the experiment."
Among all the data collected during the AMADEE-18 expedition, the instrument successfully recognised the typical signal of a dry riverbed or wadi.
"The data quality is very good and, even if we are not yet able to distinguish unambiguously the presence of water, we can find alluvial structures that could guide future astronauts to dig where they are most likely to find water," said Dr Frigeri. "In view of the recent discovery of liquid water beneath the surface of Mars, it's very timely to look ahead to the development of techniques that future explorers could use to analyse the Martian subsurface."